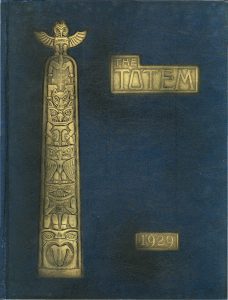 In simpler times when class sizes were only a small fraction of what they are today, we used to be able to fit all students of UBC into the same yearbook! If only there was a book big enough to fit all 60,000 of UBC's current students now… Here are some of the highlights from the 1929 Totem yearbook, featuring some old parts of campus, a little poetic tribute to nursing, and a few nursing alumni.
Campus Sketches
---
The vintage sketches of the campus capture just how long ago UBC was established. The one and only Library in 1929 is now the Irving K. Barber Learning Centre, one of several libraries on campus, and looking so much smaller in the drawing without the new wings to the left and right of the building, which were added in 2002 when the library was almost 80 years old! But the original facade is still the same as it was for the students studying at this library in 1929. Here too, is a sketch of the first home for the School of Nursing on campus: The Science building.

| | | |
| --- | --- | --- |
| Entrance to UBC | Library | Science Building |
---
Nursing Nonsense
For the 1929 Totem yearbook, the School of Nursing included this little poetic excerpt for their section to spark some interest in the readers…..

Behold, my daughter, I have parted from mine appendix and my conscience is clear! Therefore do I fear but three things in all the world-
And the first of these is a mouse.
And the second is oyster cocktail.
But the third is a University Nurse.
For I have watched her at her work. And, I charge thee, in the flutter of her apron there lurketh more danger than in the whole chorus of a Fanchon-Marco Innovation. For the chorus girl practiseth her wiles upon strong men, but she seeketh him only who is stricken and at her mercy.
Yea, when he is down and out she getteth in her work. Upon her head she weareth a cute cap which glorifieth as halo in his sight. She walketh upon heels of velvet and cooeth unto him in a voice of silver.
Her smile runneth over and will not come off.
She hath dove's eyes.
She batheth his brow with spinekard and myrrh, and anointeth him with alochol.
She arrangeth his pillow and comforteth him with words of cheer.
She taketh his pulse!
He yearneth to be babied – and she babyeth him.
What strength is there in a sick man that he shall flee before all the temptations of St. Anthony in one bundle?
He shall turn on his pillow sighing!
"Alas! Miriam is all right, but an Arts girl was never like this,"
Verily, verily, the Lorelei is passed and witches are no more.
But a University nurse is a dangerous thing!
---

Nursing Undergrads
---
| | |
| --- | --- |
| | Dolly had many attractions and a cheerful disposition, an agreeable nature and an ambition to accomplish big things. Her method of carrying out the latter is by taking a double course in Arts and Nursing, which keeps her busy in numerous labs killing guinea pigs and tasting cheese. Dolly is very interested in Rugby games and teams, and is one of the main supports of our Relay team each year. The hospital gains when we lose. |
| | Margaret decided to take a combined course in Arts and Nursing. Experience shows that she has chosen her vocation wisely, for she excels as a nurse. As an Arts student she is famous as an Economist, a Chemist and a bacteriologist. Her interest this year is in the Aggie and Dairying courses because of her unlimited tasting capacity. Margaret runs on the class Relay team; she is an excellent swimmer and an ardent supporter of rugby teams. |
| | May has the distinction of taking a course in Arts, nursing, Journalism and Palmistry. This year a mixture of labs, noon lectures and German reading courses has compelled her to resign from the Player's Club, Der Deutsche Verein, and La Canadienne. However, she still functions on the "Ubyssey" as Senior Editor where a wee touch o" the brogue makes he amazing command of Teutonic explosives highly effective. A Scotch conscience, plus an abundance of brains, regularly results in a high second-class average. |
Nursing Class of 1929

Evelyn Anderton

Jessie Aske

Margaret Dorsett

Mary Henderson

link to Amazing Alumni Story

Edith "Toddy" Tisdall

link to Amazing Alumni Story

Muriel Upshall

link to Amazing Alumni Story
Images provided for research and reference use only. Permission to publish, copy, or otherwise use these images must be obtained from the University of British Columbia.
Full 1929 Totem in UBC's Open Library collection: The Totem 1929
[Unknown]. (1929). The Totem for 1929 [P]. doi:http://dx.doi.org/10.14288/1.0119009