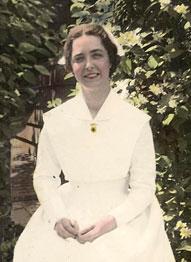 Alison Reid Wyness (1912–2000) graduated from the University of British Columbia with a BASc (N) in 1934. As an integral part of her baccalaureate programme, she was a Vancouver General Hospital (VGH) School of Nursing student and completed this part of her nursing education in 1933.
Following her graduation from UBC, Alison was employed by the Ottawa Civic Hospital as a general duty nurse. She left this position after less than a year because she was diagnosed with very early tuberculosis, likely acquired during her student days at Tranquille, the provincial tuberculosis sanatorium. She returned home to Vancouver with orders to rest for three months.
Her nursing career at VGH began in 1935. She held positions as an instructor's assistant, head nurse, and student clinical supervisor before becoming a nursing instructor in 1938. She taught students in both the VGH and UBC nursing programmes. Alison's teachers, colleagues, students and friends included many of Canada's nurse leaders, among them Mabel Gray, Grace Fairley, Margaret Kerr, Helen Mussallem and Lyle Creelman. In 1941, she married and therefore, resigned from her teaching position.
During her years as a nurse educator, Alison was actively involved in various organizations including the Graduate Nurses' Association and the VGH School of Nursing Alumnae Association. After her marriage, while living in Brownsburg Quebec, she taught Red Cross Home Nursing and War and Emergencies. She insisted that French and English-speaking women take classes together– a first for the Red Cross in Quebec.
Following her return with her family to Vancouver in 1945, Alison undertook many volunteer positions enabling her to use the knowledge and skills gained during her nursing education and career. She continued as an active member of the VGH School of Nursing Alumnae Association and helped to plan Alumnae Manor, an apartment building for retired VGH nurses. She worked with the Volunteer Bureau of Vancouver from 1945 to 1952 and was the Chair of the Arrangements Committee for the 1950 Canadian Nurses Association Biennial Convention held in Vancouver. To encourage nurses to attend the convention, she wrote the article, Vancouver by the Sea, The Canadian Nurse, 46(6): 439-448, 1950. It is a tribute to the city of her birth that she knew and loved so well. She was a keen supporter of the UBC Nursing Alumni Division.
One of her major volunteer activities over more than 16 years was as Leader of the Reality Orientation Group on Banfield Pavilion 2 at VGH. She is remembered also for her significant volunteer work as a member of the United Church of Canada. For her valued services, she was given a life membership in the United Church Women. In 1989, she was awarded a Certificate of Honour in recognition of being nominated for the British Columbia Senior Award for Outstanding Voluntary Community Service. The VGH School of Nursing Alumnae Association recognized her contributions to the School and the Alumnae by awarding her a Life Membership in 1998.
Throughout her life, Alison was committed to promoting nursing as a profession. Her beliefs reflected those of many nurse educators who followed after her. For example, in 1938 she wrote: "I am attempting to find how we can produce the complete nurse….The question of skillcertainly is very much a problem….then there is …the art of nursing. How can you develop it?" In 1992, she decided to find a way to help students provide leadership and advance the profession that had meant so much to her. She endowed the Reid-Wyness Graduate Scholarship in Nursing at the University of British Columbia. The scholarship is named in honour of her father James Inglis Reid, a Scots immigrant and pioneer Vancouver merchant, and her husband, Gordon Young Wyness who, for over 40 years, profitably conducted the business begun by her father in 1908.
Written by M. Anne Wyness, Alison's daughter, and Associate Professor Emerita, UBC School of Nursing.