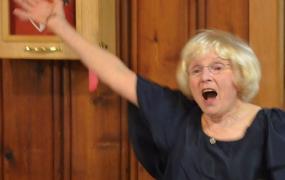 Margaret Woolley was born in Regina in 1936. Her family moved to Calgary when she was two, to Vancouver when she was eleven and to West Vancouver where she spent her grade 8 – 11 years at West Vancouver High School.
Her father died when she was in Grade 11. Her mother, sister and Margaret moved to Windsor Ontario, where she spent her grade 12 and 13 (senior matriculation) years at Patterson Collegiate.
She won a writing scholarship to Western University but decided to return to Vancouver, and to the UBC School of Nursing, enrolling in the class of 1959. While in second year at UBC, she lived with friends in Stanley Park – at the south entrance to the Lion's Gate Bridge. Peacocks screaming in the night and traffic sounds took a bit of getting used to!
Music continued to be a major interest for Margaret, with singing lessons, church choir and accompanying Ian McEown, the fellow she was to marry later.
After graduation, she worked with the Victorian Order of Nurses in Nanaimo and West Vancouver for five years.
In 1961 she married Ian McEown, who she met at West Vancouver High in Grade 8. Ian was the Music Coordinator for the North Vancouver School District at the time, soloist with the Bach Choir and St. Andrews-Wesley church choir.
Margaret became ill with TB in 1964 and had to leave the profession. After she recovered, she and Ian took a year to explore opportunities in the United Kingdom. When they were not travelling, Margaret worked for the Income Tax office in Soho, Ian worked at the John Lewis department store and on his music. Nostalgia brought them back home and after a stint working with the UBC Alumni Association, Margaret took teacher training at Simon Fraser University, in the year-long Professional Development Program.
Classroom teaching was on hold as son Cameron was born three months after leaving SFU, in September 1967. Son Colin followed in December 1968, and Margaret was home with the children until they were in elementary school. She then began teaching part-time – kindergarten in Richmond at Tait Elementary. Her first head teacher was Ian, the brother of classmate Marnie Woods. She knew him well through her friendship with Marnie and he was a great support, and, like his sister, lots of fun! She taught at Tait for 22 years, retiring in 1996.
She continued to sing with the Vancouver Cantata Singers for many years, then later with the Bach Choir as well as Ryerson and Shaughnessy Heights United church choirs.
Margaret's elder son Cam became seriously ill in his teens and for many years with bipolar disorder. Although his life and prospects have been irrevocably altered, he manages well. Colin met an Australian when at UBC, fell in love, married and moved to Brisbane. An environmental engineer, he and a partner formed a company developing software for community consultation, which is in wide use today. Travel to Australia to visit beloved grandchildren is an annual event.
On her own, Margaret eventually moved permanently to Union Bay in 2001, where she now tends her small house and garden and enjoys the companionship of friends and neighbours. Music is still in her life, as she sings and writes for a local group. Sculpting in clay is a new interest. A recent bust lost its hair in the kiln so there is much to learn.
Margaret McEown and Elvi Whittaker