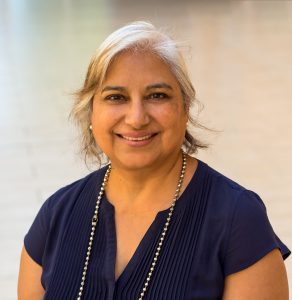 Early Life
Ranjit was the youngest of ten children, born to parents of Punjabi Sikh heritage. Both of her parents were illiterate, never having seen the inside of a school, and resided in a farming community. Seeking to better himself, her father traveled to Africa to work as a labourer in the fruit farms. As both India and Africa were former colonies of the British Empire, movement between the countries was easy in those days. Several years later, Ranjit's mother and her older siblings joined her father. Ranjit and her youngest brother were both born in Nairobi, Kenya.
When Ranjit was two or three years old, her mother and the three youngest children travelled to India to attend a family wedding. At that time, because of uprisings in Kenya to overthrow the government, her father and older siblings relocated to Royal Leamington Spa, Midlands, England, where a number of members of their village clan already resided. Ranjit remained with her mother and younger siblings in Punjab for about 5 years until they too immigrated to England. Ranjit's first introduction to schooling was in the rural village school, learning outside under the scorching sun, sitting on a jute mat on the ground, and writing using a small slate and chalk. At that time, the village had one central water well, and after dark, the only lighting was oil lamps and candles. Running tap water and electricity only arrived in the year they left.
In 1966, their immigration papers arrived and plans were underway to travel. First to Delhi by train, and then a plane to the United Kingdom. In the meantime, a war was raging between India and Pakistan. Ranjit remembers hearing bombing not too far from the village, and the sound of sirens warning them to take cover. On the train trip to Delhi, accompanied by a family friend who was returning to the UK, they were stuck for two days at a railway station (perhaps Amritsar), as trains were forced to stand still and wait for the bombing to pass. Eventually, they all made it safely to Delhi, although it was a full two weeks before they were able to board the plane for London.
Ranjit's remaining primary and the majority of her high school education took place in the UK. Initially, she was placed in a classroom with children who had cognitive disabilities and later was moved into a regular classroom. In the 1970s, various members of the wider village clan began to relocate to Canada, due to it also being part of the British Empire. When Ranjit arrived in 1974, many village clan members from the Punjab were already there. She was able to complete grades 11 and 12 at Steveston High in Richmond before the family moved to Winnipeg due to a lack of job opportunities in BC.
Nursing
Ranjit's nursing career began with her graduation from the University of Manitoba with a Bachelor of Nursing degree in 1980. Over the next several years, she held staff nurse positions in various Canadian locations, including Pembina Hospital in Manitoba (1980-1982), Richmond General Hospital in BC (1982-1983), Victorian Order of Nurses in Ontario (1983-1984, Shaughnessy Hospital (1984-1985) and the BC Cancer Agency (1985-1986). Building on that strong and diverse base of clinical practice expertise, she shifted into the kind of nursing that ultimately became her passion – Community Health/Public Health. She held various roles as Community Health Nurse and Community Developer with Vancouver Coastal Health (VCH) (1986-2004) before joining its Infant, Child and Youth Program as a Central Educator (2004-2010), and then its Vision Program as Program Coordinator (2010-2011). During those years, she also found time to fit in work as a part-time Research Assistant (1990-1997) and then sessional clinical instructor (2004- 2013) for the UBC School of Nursing.
Public Health
Interestingly, Ranjit's experience getting into public health nursing as her specialty was quite a story. When she returned from Ontario in 1984 after working for the VON, she was unsuccessful in interviewing for a position in public health nursing, despite holding a degree and having experience. She, therefore, made herself useful in other care contexts. However, the Vancouver Health Department was struggling to connect with the South Asian community, which was a growing community at that time. They were finding that too many South Asian babies were being born premature, with a low birth weight, and with neural tube defects. Some of these newly immigrating women were coming over into arranged marriages, not attending prenatal classes, and seeking care later that would be ideal. The health department, therefore, created a 'language' position, for a South Asian nurse who was fluent in Punjabi and Hindi. A Cantonese language position was created at the same time. When she was hired into this position in 1986, Ranjit was therefore the first South Asian Public Health Nurse with the Vancouver Health Department. She quickly began to receive phone calls for consultation and advice from around the province, leading her to think she may have been the first in BC. In that role, she created the first prenatal program for pregnant South Asian women (or "Indo-Canadian" as it was known at that time, and a research study she did on that initiative was later published in Canadian Nurse in  1996 and in 1997. She also created the first fathers' group in public health – called "Pops and Tots."
Social Pediatrics
On a trip to Montreal in 2005, Ranjit visited Social Pediatrics physician founder, Dr. Gilles Julien. Gathering as much information as she could at his clinic, she developed a vision for bringing these concepts and practices to Western Canada. In collaboration with Professor Judy Lynam at the School of Nursing, Ranjit began to construct the building blocks for implementation. A social pediatrics program was soon established at BC Children's Hospital with a second in the Downtown East Side. The DTES initiative was called RICHER (The Responsive Intersectoral Children's Health, Education and Research Initiative); established in 2006, it was ultimately recognized by Health Canada with an Innovation Award.
Nursing Education
Switching to part-time and casual work as a Public Health Nurse in Richmond (2011 to present), Ranjit completed her MSN degree in 2013 and on graduation became a full-time Lecturer at the School. In 2018, she was appointed into a tenure track position as Assistant Professor of Teaching – a role that requires not only teaching excellence but also demonstrable educational leadership.
In 2017, just as it began to implement its revised curriculum, the School was informed by BC Children's Hospital that it could no longer accept our undergraduate nursing students for clinical placements due to an impending renovation project. As the course leader responsible for the pediatric component of the curriculum, including negotiating 13-week clinical practicum placements for 120 students, Ranjit decided to use the framework of Social Pediatrics, and find placements within Public Health Nursing teams so that students could learn the social determinants of child health on the community front lines. That radical innovation has become the foundation for how pediatrics curriculum and practice are delivered today, and a model for other schools of nursing across the province and beyond.
Integrating it All
In her current faculty role, Ranjit believes in providing her students with the tools, knowledge and understanding they need to empower themselves and their clients/patients in the clinical setting. She further believes that social justice, equity, and collaborative experiences within learner-centred education give students the capacity to grow confidently and powerfully within the nursing profession. She co-designs learning experiences with her students, ensuring an inclusive and engaged opportunity for knowledge transfer to the clinical practice context.
Ranjit teaches courses in Community and Population Health, Relational Practice, Primary Health Care, and Child Health. She also plays an active part in various Nursing Foundations and Consolidation Practicum program components. She has served as an MSN project supervisory committee member for several graduate students and been an invited guest lecturer at Western Washington University, as well as for UBC Health's Interprofessional Education training.
As a leader in community health in the region, Ranjit has developed strong and sustained partnerships with the Downtown Eastside community, including providing UBC Nursing students with opportunities for community engagement with populations living in marginalized conditions. Some of these initiatives include the foot soak clinic with the Union Gospel Mission, outreach and pop-up clinics at Evelyne Saller Centre, Gathering Place Community Centre, Directions Youth, and Pender Clinic as well as health promotion teaching at Turning Point Recovery Society.
Ranjit's spirit of service is also strongly felt throughout the School of Nursing. She has been an active participant in UBC's anti-racist initiatives, including work toward decolonizing and Indigenizing the health professional education programs. She is a member of the School's Anti-Racist Task Force and has developed various resources on racism such as a video entitled Unseen – Ranjit's Story, which is an interview-style film that draws on racialized moments in her own life that have had a powerful impact. This film has been shared widely, including being used by UBC's Centre for Teaching and Learning Technology (CTLT) in its resources on racism for faculty, staff and students. Ranjit was also part of a team that created a number of initiatives to address bullying in nursing, including a Cognitive Rehearsal to Address Bullying (CRAB) workshop bringing faculty and students together using forum theatre techniques to learn how to act on bullying they might witness in the health care setting. That project was subsequently published in the journal Quality Advancement in Nursing Education and a commentary on exploring the intersections between bullying and racism in nursing was published in the Canadian Journal of Nursing Leadership.
Another major contribution for Ranjit has been to co-develop a course on Stress and Strategies to Promote Wellbeing with colleague Kathy O'Flynn-Magee. This was the School's first course to be open to all students across campus, regardless of their discipline. It was first offered in 2017 and has quickly evolved to be a highly popular offering, with four sections each term and a long waiting list.
During the COVID-19 pandemic, Ranjit's public health expertise was also put to the test when the University decided to create a Rapid COVID-19 Testing Clinic housed at Orchard Commons – one of the university's congregate housing facilities. She played a leadership role in planning, organizing implementing and running this clinic, integrating nursing students who gained rich hands-on experience in pandemic nursing.  This initiative, which represented an innovative public health approach and was therefore the focus of pilot testing, had a significant impact both on the UBC community and on the wider COVID response in the province. The clinic attracted widespread media coverage, and its results are in the process of publication. The project was so successful that it led to a second research project funded by Health Canada, testing student self-swabbing for COVID-19.
Naturally, COVID-19 also called on Ranjit's educational leadership as all programs in the School of Nursing were required to transition to virtual formats. Over this period of time, she guided the development of alternative simulated clinical skills learning and practicum experiences, evaluation formats and course delivery modalities. Again, she turned some of these initiatives into research projects, including a national consortium of educators across Canada working with simulation modules to teach population health clinical practice.  She saw in this crisis the opportunity to embody the social pediatrics and public health principles she believed in across multiple program levels, bringing trauma-informed knowledge, cultural safety, and advocacy into both theory courses and practice learning. In 2021, she played a leading role in publishing the conceptual basis for this curriculum in a paper entitled  Social Pediatrics in a Baccalaureate Nursing Curriculum. The insights arising from these major educational leadership initiatives that Ranjit has envisioned and championed will stand the School in good stead well into the future.
These are just a few of the many many impressive projects, initiatives and community partnerships that Ranjit has made a priority throughout her career. And in turn, her profession has clearly recognized the exemplary role she has played as a public health and educational leader. In 1995, she was awarded the Award of Excellence for Nursing Practice from the Registered Nurses Association of British Columbia. In 2016, as part of a team involved in the Nursing Flexible Learning Project, she was recognized with the Excellence and Innovation Award from the Canadian Network for Innovation in Education. In 2017, her "Foot Soak" project was runner-up for the BC Patient Safety & Quality Council's Quality Culture Trailblazer Award.  And in 2019, she was awarded a UBC School of Nursing Centenary Medal of Distinction, as well as an Award of Excellence in Nursing Education from the provincial professional association Nurses and Nurse Practitioners of BC.
Ranjit's humble beginnings and the challenges she and her family faced during the many years of migration and relocation are clearly apparent in her passion for the health of children and their families, and the responsibility of communities to provide the conditions for that health. She has infused her professional nursing and educational practice with her characteristic resiliency-building strategy, a passionate commitment to equal opportunity for all children to learn, and an overarching vision for a world in which every child has what it needs to develop and grow, be healthy and happy, and experience a sense of belonging.