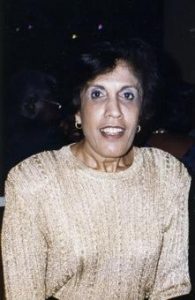 VGH – RN 1958 | UBC – BSN 1959 | COLUMBIA UNIVERSITY, NY – Nurse Midwifery and Master of Science in Nursing 1972
Kulmindar Johal has made significant contributions to nurse-midwifery and women's health in Canada, USA, and in some twenty-five developing countries. She has worked to promote and improve reproductive health in the public and private sectors. She has collaborated with nurses, midwives, physicians, medical students, heads of health training institutions, and business executives from plantations in Sri Lanka and Liberia and oil companies in Nigeria.
Born in 1937 in Victoria, B.C., Canada to parents from Punjab, India, Mindy, as she is known to her classmates, graduated in 1959 from the University of British Columbia BSN program. She took a position as clinical nurse in the labour, delivery and postpartum units at the North Vancouver General Hospital. In the same year she married Darshan Johal and after a few months, they moved to Victoria where she accepted a public health nursing position.
In 1963, her husband accepted an appointment with the United Nations at the University of Science and Technology, Kumasi, Ghana, and the family moved there with their toddlers age one and two years. She registered with the Ghana Board of Nursing and volunteered in a private hospital. Next, she took an appointment with the Ministry of Health as Sister Tutor. She was surprised that of the six tutors in the faculty (classroom teaching), she was the only female tutor. In those days in Canada, nursing was a woman's profession.
One of her challenges was to accept that the students could not practice at the standards she had learned during her training in Canada. However, thanks to her nursing education at UBC, she quickly adapted her teaching to the new situation in a limited resource setting. She realized that nursing concepts, theories, and practice can be applied to service delivery in any location, and discovered that translating them to the local context was not difficult. Consequently, her students were able to provide quality client care within their service environment.
In 1966, she returned to Victoria to have her youngest child, while her husband remained in Ghana. She lived in Victoria with the children for one year. In 1967 she returned to Ghana to join her husband.
In 1968, after five years in Ghana, the family moved to New York City. Her husband continued his work with the UN. Now, her dream to become a nurse-midwife was within reach. Her obstetrical clinical experience at UBC mentored by Ms. Davies, a U.K. midwife, and encouragement by her professor Margaret Duncan (later Jensen), who mentioned a Masters Program at Columbia University that also provided training in midwifery, had convinced her that if she ever had the opportunity to live in New York, she would take that program.
In 1972, she graduated from Columbia University in New York with a Master of Science in Nursing and a certificate in nurse-midwifery. In 2004 students at Columbia wishing to become nurse practitioners or midwives were required to obtain a Doctorate of Nursing Practice (DNP). As her education preceded this change, Mindy was certified as a nurse-midwife (CNM) by the American College of Nurse-Midwives (ACNM). Next, in order to become an expert practitioner, she took a graduate nurse-midwifery internship at State University of New York, Downstate Medical Center, Brooklyn. While in New York City, she reconnected with her UBC professor Margaret Campbell who was studying for her doctorate at Teachers College, Columbia University.
Since her husband frequently travelled abroad, one of the challenges for her was to try to balance her professional and family life. The couple had decided that her main job was to care for their children and support her husband in his career. Consequently, she criss-crossed the globe many times in pursuit of her family responsibilities and her chosen international career. Her first appointment was as Clinical Assistant Professor in the Nurse-Midwifery Education Program, College of Health-Related Professions, State University of New York, Brooklyn (1973-79). In 1978 while teaching and practicing as a nurse-midwife, she enrolled in the Master of Public Health Program at Columbia University. After one semester she left the program due to family responsibilities. She remained working in New York with her three children while her husband moved to Kenya in 1978 to establish the United Nations Centre For Human Settlements (Habitat).
She moved to Nairobi, Kenya, with their youngest child, a daughter, in 1980. After registering with the Nurses, Midwives and Health Visitors Council of Kenya, she volunteered as a Kenya Registered Nurse and Midwife in the Kenyatta National Hospital and the Pumwani Maternity Hospital to familiarize herself with the practice of nurse-midwifery.  Her preference was to work alongside the local nurses, midwives and physicians in order to identify their practice constraints and determine how they managed their particular situations. This insight would be very useful when working with international organizations. Her two older children remained in Victoria under the guidance of their maternal grandparents.
Moving back to Victoria in 1981with her daughter, she accepted an appointment at the University of Victoria for one year as Visiting Assistant Professor to teach the Community Health and Family Health Nursing Practice course in the fourth year of the BSN Program. Her eldest children were also enrolled in the same university.
In 1982 she returned to join her husband in Nairobi. She worked as a Senior Family Planning Consultant for the following international health organizations: Family Planning International Assistance (FPIA), an affiliate of Planned Parenthood International;  IntrahHealth International, Inc., and John Snow, Incorporated (JSI), a public health research and consulting firm in the US and around the world. Her younger daughter remained in Victoria in boarding school for grades 11 and 12 while her older siblings were at University of Victoria.
While her husband remained stationed in Nairobi, in 1986 she accepted an appointment with JSI in Washington, DC as Senior Reproductive Health Technical Advisor (1986-1991 and 1994) and with Jhpiego (a Johns Hopkins University affiliate) as Senior Technical Advisor  (1991-1993). Working in DC enabled her to be closer to her children who were now studying in Montreal and Toronto. She moved back to Nairobi again in 1993 to join her husband, and continued to work from her home-office in Nairobi for JSI and Jhpiego.
In 1994 she returned to Vancouver where her husband helped to establish an international organization, the International Centre for Sustainable Cities (ICSC). She continued her international work/travel from her home-office in Vancouver. In 1998 her husband was recalled to UN-HABITAT, Nairobi, as Acting Executive Director and UN Assistant-Secretary-General. She took leave from her international work and joined him in Nairobi. Upon their return to Canada in 1999, Mindy continued to work/travel from her home-office in Victoria, BC (JSI, Jhpiego, ACNM, and IntraHealth International, Inc.). She continued to serve as a contributing member of the International Health Committee of the American College of Nurse-Midwives from 1986 until her retirement. Over the years she was encouraged by her colleagues to pursue a PhD, but due to the demands of an international lifestyle and her family, she decided against it.
In addition to the faculty appointments, job responsibilities in the international context included project design, management, implementation and evaluation; national-level reproductive health needs assessments and evaluations, developing clinical skills training teams; national family planning and safe motherhood curricula; national practice and supervision guidelines; designing and conducting family planning workshops for Ministry of Health officials and executives in the business sector.
AFTER retirement, she volunteered in Victoria with the Victoria Women's Sexual Assault Centre (Crisis and Information Line), Island Sexual Health Society; and the Canadian Red Cross. She continues to advocate on behalf of women and infant health.
Mindy is keenly interested in global health and continues to update herself by attending seminars, workshops and other learning opportunities in this field. Playing golf and reconnecting with family and friends are her favorite pastimes.
Mindy and her husband Darshan recently celebrated their 60th wedding anniversary.
Kulmindar Johal and Elvi Whittaker
January 2020.