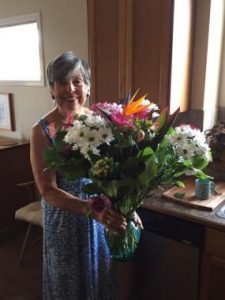 Alixe Loree was born on July 29, 1936 in Calgary, Alberta and moved to Vancouver when she was five years old. With the onset of World War II her father was employed by the government as an accountant for an ammunitions factory in St. Catherine's, Ontario. Her only sister was born there. After the war the family returned to Vancouver and her father became the accountant at Begg Motor Company. Alixe attended Point Grey Junior High School and later Magee High School. Many of her classmates from Magee also went into the same nursing program at the University of British Columbia. Her interest in the nursing program was sparked by an older cousin who had graduated from the program. Alixe graduated in 1959.
She married Ronald Johnston, a Commerce graduate and her high school sweetheart, in July 1959. Ron articled at Peat Marwick Mitchell and became a chartered accountant. Alixe's first nursing job was a community health nurse in the preventive program in East Vancouver. She resigned when Gregory was born in 1961 but taught prenatal part time in the Vancouver Health Department. Cameron was born in 1963 and Loree in 1966. Gregory and Loree are UBC graduates in Commerce and Cameron in engineering. The family moved to Edmonton in 1963, as Ron's work took them there, and they lived there until 1967. Alixe did not work during this time.
On returning to Vancouver Alixe returned to part-time substituting for community health nurses in downtown Vancouver and in 1973 at Langara College where she was the college nurse and also worked at North Shore Family Planning Clinic and teaching in the schools. For three years she was the liaison nurse at North Shore Health for the UBC students who were assigned to the health unit. When her children were older she switched to full time work at the North Shore Health Department. She retired in 1998.
The Johnston family was involved in the local sailing community, both in cruising and racing. In 1994 Alixe and Ron traveled to South Africa to visit a son who was working there for three years. In 1996 Ron became very sick with esophageal and stomach cancer, was hospitalized for three months. Alixe took leave to nurse him for the next ten months. He recovered and in 1998 they sold their house in North Vancouver and moved to Kelowna where it was possible for Ron to work shorter hours. Ron died in 2003.
Since that time Alixe has traveled widely to Australia, New Zealand, Europe, Scotland, Ireland, Hawaii and Eastern Canada. She is proud of her seven grandchildren – the eldest graduating in commerce at UBC, a granddaughter taking nursing at BCIT and a grandson taking radio announcing at BCIT and the rest in high school. She volunteers as an usher at the theater and the Rotary Centre for the Arts. She has a new friend, Ken Johnson, and they travel and spend time together. Her cocker spaniel, Jazzy, keeps her active. She feels life has been good to her.
Written by Alixe Johnston and Elvi Whittaker, April 15, 2017