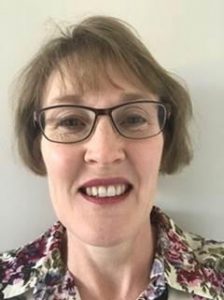 Born in Zimbabwe and raised in Zimbabwe and South Africa, Eleanor began her career with degrees and diplomas in Nursing, Midwifery, Psychiatric Nursing and Community and Occupational Health Nursing at the University of Cape Town. By the time she immigrated to Canada in 1994, she had held a number of staff nurse positions in such clinical areas as surgical intensive care, cardo-thoracic surgery and dialysis. Arriving in Vancouver in the summer of 1994, she took on a part-time staff nurse position the Vancouver Community Dialysis Unit and casual staff nurse positions, in the Hemodialysis Unit, Peritoneal Dialysis Unit and Nephrology Unit at Vancouver Hospital and Health Sciences Centre and the Renal Unit at BC Children's Hospital. She obtained national certification for the first time in Nephrology Nursing in 1998, clearly signaling that she had found her clinical passion.
When Eleanor approached the UBC School of Nursing to explore the possibility of entering the MSN program, it was found that there were considerable differences between her baccalaureate program and what the School required at that time. While being rejected for admission might have daunted a lesser nurse, Eleanor worked with the School to identify a course of study that would strengthen her case for admission, including taking undergraduate courses as an unclassified student. By the time her admission was finalized, she had established herself as a keen student of the discipline, a tenacious pursuer of her long-range goals, and a delightful partner in the educational enterprise. She absolutely thrived in the program and enjoyed being part of a wonderful cohort of colleagues who continue to discuss philosophical and theoretical nursing matters and support one another to this day.
Completing her MSN program under the supervision of Sally Thorne with a thesis entitled An Interpretive Description of the Experience of End Stage Renal Disease as Perceived by Persons with Diabetes Mellitus (which was published in 2005 in the Nephrology Nursing Journal), Eleanor was offered Clinical Nurse Specialist positions – first at the Progressive Renal Insufficiency Program over an 18 month period in 1999-2000, and later for a similar period of time at the Renal Program at Vancouver Hospital & Health Sciences Centre. As her professional capacity grew, she was brought into a Professional Practice Leadership role with Vancouver Coastal Health Authority.
Another major event occurred in Eleanor's life when her son Ben was born in 2001. She and her husband Vaughn were delighted at this happy event and the developmental milestones Ben achieved (and continues to achieve) became a source of total joy and pride for them both. Never one to seek out too easy a path in life, Eleanor decided to return to UBC in 2002 to begin her doctoral studies, any doubts about full time studies with a part-time job and a toddler vanquished by Vaughn's, "you are happiest studying". Moving to Toronto for Vaughn's work in 2004, she completed her doctoral dissertation in 2008 (again with Sally Thorne as supervisor) on the topic of Patient Perspectives On Health Care System Navigation: The Chronic Illness Multi-Morbidity Experience. The findings from that study were published in 2010 in the Journal of Nursing and Healthcare of Chronic Illness.
Throughout these various professional practice positions and degree programs, Eleanor remained a highly active member of the Canadian Association of Nephrology Nurses and Technologists (CANNT) including editing a regular column in the Nephrology Nursing Journal and participating on working teams to establish evidence based nursing standards of practice. She took part in decision support development for adults living with chronic kidney disease through the Registered Nurses Association of Ontario and reviewed grants for the Kidney Foundation of Canada. She also engaged in a wide range of contiuing education activities and initiatives (as both teacher and learner).
On completion of her doctorate, Eleanor served as Patient Care Manager for the Renal Unit at Sunnybrook Health Sciences Centre, did some sessional teaching at the University of Toronto Faculty of Nursing, and was appointed into a tenure track Assistant Professor position at Ryerson University in 2010. However, in 2011, Vaughn accepted a position offering better work-life balance in Calgary, so she began again, accepting an Assistant Professor position there. For the next couple of years, Eleanor was actively engaged in teaching coures on theoretical nursing knowledge, people experiencing chronic health challenges, and nursing praxis as well as engaging in scholarly activity as a co-applicant on two large community-based primary healthcare and integrated chronic disease management initiatives, pursuing and obtaining significant grant funding to continue her research on patient navigation. However, by 2014, in the ironic manner of the world, the progression of Eleanor's own chronic condition was such that she was forced to step away from work.
Eleanor feels that she has adjusted to the transition away from full time engagement in the nursing world and created a new and meaningful life centered around home, family, and friends. She has picked up hobbies that had fallen by the wayside, like gardening and knitting. Her family has been amazingly supportive, ensuring that she maintains her characteristic sense of humor and perspective. She reports being eternally grateful that she married an amateur chef. Her son Ben, now 16, continues to amaze his parents academically. Fortunately he now drives himself around, which is a blessing as his rowing has become a 5-6 day a week commitment. Their support also frees Eleanor up to use her limited energy for new ventures. She is taking a pottery course and helping Ben plan for his transition to university in the near future.
Eleanor's story is a reminder that life does take its own course, and that for so many of us, our passion for nursing is only part of what matters. Eleanor has left a lasting legacy for the kidney patients of this country, and her persistently cheerful enthusiasm remains an inspiration to her colleagues. Who knows what new adventures this next phase of her life will bring?