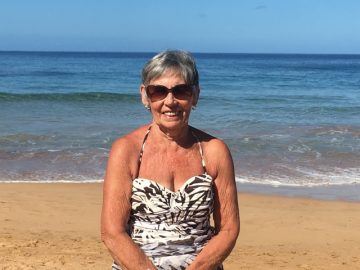 Helen Buchanan was born in 1936 in Kamloops, British Columbia. She attended school in New Westminster, graduating from Duke of Connaught High School in 1954. She had an older brother Ronald who died in 1992. Helen originally wanted to be an airline stewardess, as flight attendants were then called. In the 1950s nursing was a prerequisite for this career. At seventeen she was too young to enter the Royal Columbian Hospital nursing program. Her father persuaded her to take courses at the University of British Columbia for a year before making her final decision. While there she explored the university's nursing program and decided to enter the BSN program in the class of 1959.
After graduation, from 1959-1961, Helen worked as a staff nurse in the maternity unit at St. Mary's Hospital in New Westminster. Following this she travelled in Europe for six months with her classmates Ann Day, Barb Mackenzie and Ollie Darcovich. On her return in 1962 she was invited back to St. Mary's Hospital as head nurse on the maternity unit. She was granted a three-month leave of absence in 1963 to teach obstetrics for the UBC nursing program, replacing an instructor who had died suddenly. For two years from 1964 she was a staff nurse in the labour and delivery unit at Kapiolani Maternity Hospital in Honolulu, Hawaii. In 1966 Helen returned to the mainland and entered the graduate nursing program at the University of Washington in Seattle, graduating in 1967 with a master's degree in nursing. Thereafter she began teaching obstetrics at the UBC School of Nursing.
In that same year she married Don Olsen, a high school English teacher. Daughters Jane and Catherine were born in 1971 and 1974. Both daughters graduated from their mother's alma mater, Jane with BHE, MA and B.Ed degrees, becoming a teacher at Prince of Wales High School and Catherine with a Bachelor of Human Kinetics degree.
Helen retired from UBC in 1976, but remained active in the nursing education field. From 1976-1977 she was as an active member of the RNABC Committee on Nursing Education. Then from 1977 to 1980 she was a clinical placement coordinator for the Interschool Committee on the Utilization of Clinical Placements in the Lower Mainland. This Committee worked in affiliation with Vancouver Community College, Vancouver Vocational Institute, Douglas College, B.C. Institute of Technology and the UBC nursing program representatives and in liaison with lower mainland hospitals.
Upon Helen's retirement she and her family joined the Arbutus Club where Helen became involved with her daughters' sports programs and pursued her own passion for tennis which she continues to play weekly. She is also actively involved with her four granddaughters – two of whom live next door to her, while the other two live in Kelowna.
---
Prepared by Helen Buchanan Olsen and Elvi Whittaker, March 2017