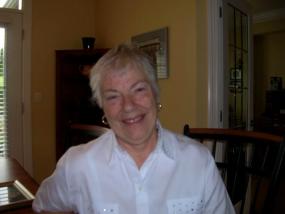 Maralyn Leask was born in 1935 in Toronto and finished high school at Trafalgar High in Montreal. Thereafter she entered the School of Nursing at the University of British Columbia graduating in the class of 1959. Immediately after graduationshe worked for a year at Langley Memorial where she experienced not only "the fun of hard work" but also "true bedside nursing." She still considers this her best nursing experience. While there she met many young women from New Zealand and Europe pausing to nurse in Canada in order to continue their travels. These stories inspired Maralyn's own plans to travel. Thus in 1960, accompanied by her classmate Ann Geddes, she set off for six months to tour Europe by car. On her return in October 1960 she worked for the Boundary Health Unit in public health in Surrey, part of this included working in Ladner at the beginning of home nursing there.
The following year she married Joe Nigg and went to a dairy farm in Abbotsford, living there until 2002. At the same time she worked was a public health nurse, only stopping full time work in 1962 on the birth of Sonya. She continued nursing on the weekends until 1965. Joanne was born in 1964 and Kenneth in 1965. In 1979 she returned to nursing at MSA Manor Home, a personal care facility, where she was the chief administrator. In 1989 a new facility, Maplewood House Senior Care Society, was opened and Maralyn worked there for twelve years.
In retirement Lyn has worked as a volunteer with the Elizabeth Fry Society and lives in the Abbotsford House she built with her husband, enjoying her grandchildren, great-grandchildren and her dog. She was an avid kayaker travelled widely including several times to Switzerland. Her travel highlight was to the north to Yellowknife and to Bathurst Inlet.
Prepared by Maralyn Nigg and Elvi Whittaker