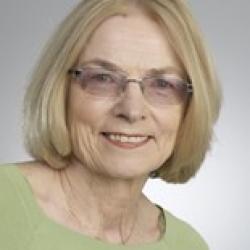 Dr. Beverley O'Brien, PhD, RN, RM (inactive) is a Canadian leader in maternal/newborn heath. Following graduation with her BSN in 1972, Bev was a public health nurse in Burnaby for 8 years, then attended grad school in California (MS, California State University at Long Beach 1982). Following various practice leadership experiences in northern nursing stations she was the first Director of the Indigenous People's Access Program to Nursing in Saskatoon (1985-87), a program to develop a culturally appropriate program to prepare aboriginal students across Canada to access baccalaureate nursing programs. She earned her PhD at Rush University in Chicago in 1990. Along the way, she had also obtained certification as a family nurse practitioner (NP) and certified nurse midwife (CNM). She returned to Canada to take up a position on the Faculty of Nursing at the University of Alberta and a postdoctoral fellowship with the Alberta Heritage Foundation for Nursing Research and take up a position on the Faculty of Nursing at the University of Alberta.  She applied for midwifery registration (RM) in Alberta and ultimately, after a Clinical Fellowship in midwifery at Holy Family Birth Centre in Weslaco, Texas, she was among the few nurses in Canada to be funded with a highly competitive career scholar award under the Medical Research Council/National Health Research Development Program from 1996-2000.
Over a long and prolific scholarly career, she has developed a world class program of research to support pregnant women experiencing challenges to their health and safety, including severe nausea and vomiting during pregnancy and to examine disparities in maternal health. Her work has been widely cited and taken up across the globe, including North America, Europe and Eurasia. Her paper on the experience of women hospitalized with severe symptoms was among the most cited papers in Nursing Research – the leading scholarly nursing journal, and was cited in US Congressional Briefings on this topic in 2004. She was also quoted many times in the public press, including CBC and Flare magazine.
Another scholarly contribution O'Brien made over her career was a series of evaluation studies on the integration of midwifery services in Alberta. Using provincial records, a cost analysis and impact measures of midwifery care on material/newborn outcomes, she was able to inform the integration not only of midwifery but also of other professionals, and a report on her work was tabled in the provincial legislature in 2005. As part of her scholarly work, she was involved in mentoring and training nurse/midwifery graduate students and postdoctoral fellows nationally and internationally. In addition, she provided expert consultation to a number of universities worldwide, including Universidad Peruana Cayetano Heredia, Lima (2002), Queens University, Belfast (2007), University of Ghana (2006), and Nunavut Arctic College (2007-2009).
Another facet of her provincial work over the years was a study of maternal experiences of recent newcomers (both immigrants and refugees) to Alberta. She also studied the caring and birthing experiences of Traditional Inuit Midwives, a project that has informed not only the Nunavut Arctic College curriculum, but also has been included in the University of Alberta Museum Collections for the 50th Anniversary of the Canadian Circumpolar Institute (05/10 to 15/11/2010), and in the publication of the book Birth on the Land; Memories of Inuit Elders & Traditional Midwives, which was tabled in the Nunavut legislature in 2013. Nationally, she played an active role in "What Mothers Say: Canadian Maternity Experiences Survey", nationally conducted for the Public Health Agency of Canada and Statistics Canada on maternal experiences in Canada. She was also a contributor to the Canadian Perinatal Health Report (2008).
Now retired from the University of Alberta Faculty of Nursing as a Professor Emerita, she continues to support graduate students and engage in scholarly activities in her field.  And having felt the support of so many over the course of her career, she is also giving back to her Alma Mater by supporting the next generation of graduate students with a passion for strengthening the recipients of perinatal care. She has generously made possible a new award for UBC students pursuing research into woman-centredholistic and physiologic maternity care. Further information is available at: https://www.grad.ubc.ca/awards/strengthening-mothers-through-perinatal-r…