Elaine was under one year of age when she immigrated to Vancouver from Hong Kong with her mother in 1958. Her father had immigrated years before and was excited to meet his firstborn and wife in Vancouver. Being the oldest child in a Chinese family and being a girl, she had a lot of responsibilities put on her. She helped with housework, babysat her two younger brothers, and took on important roles such as helping translate for her parents, who had limited English. Some of these translations were medical appointments, school notices, or other important transactions like purchasing a car, interpreting the manual for mechanical equipment, and helping other newly arrived relatives. She knew what it was like to have limited to no English or resources in a new country. This was one of the reasons she chose a career in nursing — to help others.
Elaine's nursing career started in Psychiatry at the UBC Hospital right after her BSN graduation in 1980.  She worked for almost seven years there and held positions such as junior care coordinator and head nurse. She then switched to public health and stayed in that field until she retired in 2018. She found public health nursing most rewarding because it was a health prevention focus and the population was from 0-5 years and school-aged children and their families.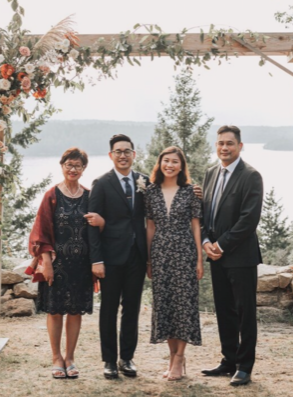 During the early 1980s, there was an influx of immigrants and "boat people" arriving in Vancouver. What better time to be in public health nursing, especially for someone who was an immigrant herself and aware of the plight they endured. A large number of the immigrants from Asia at that time were from villages rather than cities, and some were not literate, even in their own language. Elaine was hired into a newly developed Public Health Nurse-Chinese Language position created in 1986. She worked tirelessly and supported countless numbers of families in her career through home visiting, giving immunizations and health education in Well Child Clinics, and serving as a nurse consultant to child care settings and in-school nursing. She also engaged in counselling at youth clinics.
Elaine also enjoyed participating in new projects within Vancouver Coastal Health in different advisory committees and working groups. After her first few years in visiting new babies and in the school programs, Elaine desired to focus more on the Early Childhood population. In 1990, she joined the Early Childhood Team and contributed lots of great ideas and positive energy to improve health education and outreach to that population group. There were lots of health fairs for families in the district she served, partnering with community centres and neighbourhood houses. She was involved with the early Vision program for children under 5 as well. The goal was to do outreach for vision screening for the 3-to-5-year-olds in the city of Vancouver.   
One of Elaine's passions was working as a nurse consultant in the Building Blocks program. She worked one day a week for 15 years in that program until she retired. It was a program that provided support to new immigrant families who are first-time parents. She advocated for accessible health care, housing, food security and social connections through working with social agencies like MOSAIC and SUCCESS and other partners in the community.
Elaine was not only nurturing to her clients but also to her colleagues.  She always took time to speak to each one of her colleagues when time allowed. She was a wonderful and thoughtful listener. Elaine's warmth made her colleagues feel very special to be her colleague/friend. Elaine knew all about how to build community with her clients, partners in the community, and with her colleagues. She connected with everyone with her sense of humour, calmness, and thoughtfulness.  
Elaine met her husband Brent at UBC and they married and raised two children. Sadly, Elaine suddenly passed away in December 2020.
She will always be remembered.
Written by Elaine Choi – November 2022