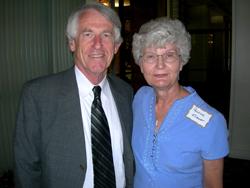 Pauline graduated from the 1967 three-year diploma program at the Royal Columbian Hospital School of Nursing. She entered the nursing class with high school friends Jill and Frances and with little idea about the role of the nurse or about the profession of nursing. That year she had been accepted in the Bachelor of Music Program at UBC. With her mother a piano teacher and choir director, Pauline began her musical studies at age four and at 17 received the ARCT Diploma in piano performance. As a junior teacher of music and an accompanist for a dance studio, her school and musical experience had always been the focus. Although committed to music, she was restless, and wanted to do something new, something different. Nursing would indeed prove be different.
The first months were difficult, as academic and musical success did not prepare her for caring for others who were ill and distressed. Nor had it prepared her for the responsibilities of a nurse and health team member. The military approach to clinical education filled her with anxiety and the clinical hours and nights were full of trepidation. It was the inspiration and guidance of nurses and teachers as role models (many of whom were UBC Nursing graduates) that helped her to understand the "patient" experience and provide her with the knowledge and skills to make a positive difference in the lives of others.
As a senior student she truly understood the anxieties of the novice role and the important influence of a knowledgeable and nurturing teacher. She began helping the more junior students and looked forward to her opportunities as a team leader. Teaching came naturally to Pauline; as an eight year old, she had set up a neighborhood kindergarten each morning of the summer holidays and spent the afternoons planning the following day's activities. So, at an early age Pauline had understood the ratio of preparation to the delivery of learning experiences. To combine the love of nursing with a long time enjoyment of teaching seemed the ultimate career path. With such an uncertain beginning, it was a revelation to her family and friends that she not only received the Nursing Proficiency Award for her class but truly "loved" nursing and applied for further preparation at UBC.
While working as a staff nurse in all areas, and with a particular love for the maternity and pediatric areas, she entered the Post RN Degree Program. UBC broadened her academic base with the stringent requirements of chemistry, microbiology, zoology andliterature. Her nursing courses were taught by such memorable leaders as: Alice Baumgart, Beth McCann, Verna Splane, Margaret Street, Maude Dolphin and Dr. Szass. Pauline began to explore nursing as a profession and to understand the quest for the development of nursing knowledge. At graduation, it became clear that the next goal was that of "nursing masters" preparation.
For a few years, Pauline taught both maternity and pediatric nursing at the RCH School of Nursing followed by a new adventure as a PHN in the community of Port Coquitlam. Her public health teaching and BSN placement at the Victoria Drive Health Unit had given her the tools and experience to provide preventive care, home care and long-term care to clients and families in her assigned district. Many of her colleagues were UBC graduates and she believes they gave an outstanding level of care to that community.
Pauline entered the MSN program as one of four students. It was here that she had the teaching and influence of wise, creative faculty like Margaret Campbell, Rose Murikami, and Joan Anderson, all of whom inspired academic and clinical excellence. The thesis route prepared her for a commitment to nursing research and introduced her to qualitative methodology. Todd Rogers made statistics fascinating and fun. Academic study with three unique and brilliant classmates, one of whom was Sally Thorne, was a major growth experience. It was the beginning of lifelong friendships and collegial relationships with dedicated nurses who continue to provide leadership and make significant contributions to nursing as a profession.
Following her community work and during graduate studies, Pauline returned to clinical and classroom teaching at Douglas College where a new two-year diploma program replaced the three-year training school. Here, her experiences were valued and the pursuit of master's preparation supported. She joined an enthusiastic faculty and thanks to the leadership of Mary Fewster and Joy Page (both UBC MSN graduates) Pauline had many and varied opportunities in nursing education. She taught in all aspects of the program and was involved in program and curriculum development, change and research. For nine years she served in a coordinator role to support students and faculty, and as well, participated in several program and college committees. Upon request, her last years before retirement were spent in clinical teaching of maternal/newborn nursing where she had the challenges and rewards associated with students and the opportunity to participate in the clinical changes associated with family-centered care. At retirement, her colleagues were responsible for her receipt of an RNABC Award of Excellence in Nursing Education and Douglas College honoured her with the status of Faculty Emeritus.
Today you will still see Pauline in the halls of the Health Sciences Centre at Douglas College interacting with students, mentoring new faculty and supporting inevitable ongoing change. There are many proud moments as she follows her previous students who now fulfill leadership roles in nursing and some, returning to Douglas as new faculty members. She is thrilled with the talents, enthusiasm and potential of nursing students and with the privilege of meeting and mentoring new nursing faculty.
Does she wish that she had pursued a musical career? Her answer is "no". Thanks to her UBC preparation and her opportunities at Douglas College, nursing is and continues to be a passion. She does however, co-ordinate and participate in The Bruce Vogt Piano Master Classes each year. She shares a home in Surrey with friend Brenda, a large garden, a large music collection and two beautiful Irish Wolfhounds, Nikki & Noah.