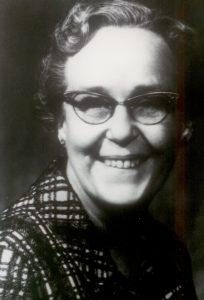 After her graduation from UBC and the Vancouver School of Nursing in 1936, Eleanor worked in various locations in BC, establishing the first public health service in Powell River. In 1945 she obtained a Masters' of Science in Supervision and Administration from the University of Chicago.
Following her Masters Degree she became second assistant to the Victorian Order of Nurses in Canada, and a nursing instructor at the Metropolitan School of Nursing in Windsor. She returned to BC to become Director of Nursing at the Royal Columbia Hospital from 1949 to 1953.
From 1953 to 1958 she was regional nursing advisor for WHO in Southeast Asia. After her retirement she accepted a commission from WHO in the Maldives. She was also executive director of RNABC from 1960 to 1970. And in this capacity, visited chapters, hospitals and public health centres throughout the province. She supervised construction of a new RNABC building on 12th Avenue in the -1970s, – and saw a growth in membership from 7,700-13,000.
Material provided by the BC History of Nursing Society archives
http://bcnursinghistory.ca/archives/biographical-files