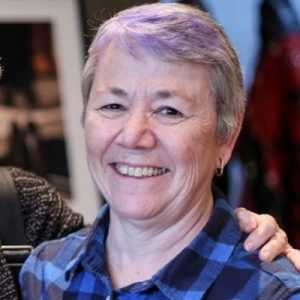 Jan graduated from the Royal Columbian Hospital School of Nursing in New Westminster, BC in 1973. After graduation, she went on a backpacking trip around Europe for 8 months before starting work as a staff nurse on the paediatric unit at St Mary's Hospital in New Westminster. After a year, Jan felt her wanderlust calling her again. She saw a newspaper ad in the Vancouver Sun calling for "Nurses: Work in the Sun". That appealed to Jan, and before long, Jan had moved to Australia. She was assigned to the Rockhampton Base Hospital in Queensland where she became the Charge Sister of a 45 bed paediatric unit. Her 18-month work experience in "Rocky" was like no other! Most of the children who were hospitalized were Aboriginal and were transported to the hospital alone from the Outback. The only paediatrician available to Jan was in Brisbane (615 km away), and regular communication with him took place on Friday afternoons by ham radio. Hospital stays for the children were often prolonged because there was no way to get in touch with their parents to let them know their child was ready for discharge. Messages were often sent to remote communities by ham radio or word of mouth, and the wait for parents to arrive often stretched into weeks and sometimes months. Jan was told repeatedly that parents had just gone "walkabout", and not to worry because they would return eventually⁠—and they always did. At one point during her employment in Rockhampton, Jan was quick to recognize the early signs of diphtheria on the paediatric unit. Jan was able to get all the children treated early, so that there were no fatalities and no community outbreak. Jan especially enjoyed her opportunity to fly a few times with the Flying Doctor Service to airlift children to hospital or to escort them back to their home communities.
Once Jan was back in Canada, she decided to advance her career by completing her baccalaureate degree ('79). At that point in time, she planned to become a public health nurse and then return to work in Australia. Life intervened, however, and that never happened, so Jan got a job teaching paediatrics at the Douglas College School of Nursing for the next 7 years. She loved her student clinical placements at BC Children's Hospital, and so she decided to leave her teaching job and return to the hospital setting full time as the Head Nurse of Paediatrics and Special Care Nursery at Burnaby Hospital⁠—all while completing her Master of Science in Nursing (MSN) Program at UBC ("89). Upon graduation, Jan was hired as a Paediatric Clinical Nurse Specialist at Sunnyhill Health Centre for Children in Vancouver. There she developed her expertise in the care of infants and children with complex medical needs, often caused by an injury during pregnancy, delivery or childhood. Infants who had been prenatally exposed to drugs were especially challenging to care for and were typically hospitalized for several months after birth to wean them from the drugs they were exposed to in utero. Jan became a passionate advocate for inclusion of birth moms in caring for their own babies while they were in hospital rather than apprehending all these babies at birth.
In 1995, Jan was asked to establish a low barrier clinic for vulnerable children at Native Health, in the Downtown Eastside of Vancouver (DTES). Once a week, she and a developmental paediatrician assessed infants and children living in the community who were referred by public health nurses, school teachers, social workers and parents themselves. As a CNS, Jan played a pivotal role in facilitating referrals, connecting with and supporting mothers to bring their infants/children to the clinic, and linking these families to appropriate services and support afterwards. Out of this tiny clinic grew the Social Paediatrics Initiative, which today employs several nurse practitioners, paediatricians and social workers to provide a continuum of health care for vulnerable families in the DTES in collaboration with other community service providers.
In 2001, Jan was recruited by South Fraser Regional Health Services (now part of Fraser Health Authority) as the Director of Maternal Child Services. Jan has never stepped away from a challenge, and during her 12 years in this position she worked with her leadership team to implement clinical practice guidelines for paediatrics and obstetrics across the Fraser Health Authority. As the largest health authority in Canada, this was no easy feat.
One of Jan's proudest accomplishments while working for the Fraser Health Authority (FHA) was establishing the Maxxine Wright Community Health Centre in Surrey, BC. In partnership with Atira Women's Resource Society (AWRS), a feminist non-profit society providing supported housing for women and children affected by violence, the centre opened in 2010. The centre serves women who are pregnant and/or parenting young children who are also impacted by substance use and/or violence. Atira operates an emergency shelter and second stage housing on the Maxxine Wright site and FHA operates the community health centre.
With the support of Child Health BC, Jan also successfully advocated for a child friendly Paediatric Emergency Department (separate from the adult emergency department) at Surrey Memorial Hospital. Despite considerable opposition to this idea originally, the Paediatric ER opened in 2013, just months after Jan retired from the FHA.
Jan began working for Atira 3 days a week after her FHA retirement. She loved being back in the DTES again working with vulnerable women and their children. During her 5 years with AWRS, she set up a woman-only 11 bed palliative care unit (called the Sue Bujold Floor) in 2014, and opened the first woman-only safe injection site in Canada in the DTES in 2018.
Since her second retirement in 2018, Jan has been enjoying worldwide travel and reconnecting with friends in New Zealand and Australia. She enjoys spending as much time as possible with her four adopted children (ranging in age from 16 to 31) and they provide her with a lot of joy and happiness. Her kids are always keen to go travelling with their mom but now demand that they stay in hotels with at least one star! They have climbed Macchu Pichu, steered a long boat through the canals of England and backpacked through Turkey, Romania, Scotland, England and Wales together. They are busy planning many more trips in the future.
In her spare time, Jan volunteers for Rainbow Refugee, a non-profit that supports people seeking refuge in Canada because of persecution based on sexual orientation. She is also an active member of the Green Party and is on several committees working on social justice issues.
Jan spends as much time as she can in her tiny house on wheels which currently sits on her property in the northern Gulf Islands. She is also an active member of the Accordionettes, an accordion band comprised of 5 women ranging in age from 65-88 years. They perform locally at seniors centres, legions, retirement homes and long term care facilities whenever they can.
In 2018, Jan was awarded UBC School of Nursing's Alumni Recognition Award  in recognition of a nursing career that exemplified being "a powerful champion for the rights of women and children who are burdened with health equity challenges."