After graduating in 1968 from a diploma program in Victoria, BC, Carol Bassingthwaighte worked for 15 years as a pediatric nurse in Montreal, Toronto and Vancouver. During these years she became increasingly disturbed by the anxiety children experienced during hospitalization. Although there was a growing awareness of the importance of including parents in the care of their hospitalized children, this wasn't always implemented in practice. Recognizing that she would need more knowledge if she were to facilitate change, she returned to school at UBC to obtain her BSN (1987) and MSN (1996).
"It was exciting coming back to school," says Carol. She found the faculty welcoming and appreciated that they recognized the knowledge that post-diploma students already had. One professor in particular stood out because she encouraged students to remember to take time for themselves; to actually schedule into their calendars time to care for themselves as students, spouses and parents.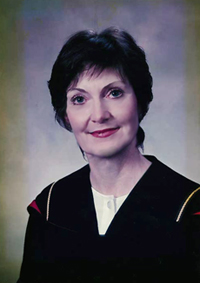 In 1990 Carol began working for a new provincial program that provided supports for children who had medically-complex conditions and wanted to move from hospital to home. This work fit exactly with her desire to decrease the anxiety of children. She remembers the first time she visited a three-year old child in his home; he lay on the living room sofa, playing with his rambunctious brothers, while his naso-gastric tube feeding infused. He was receiving the care he required, but was surrounded by familiar people and belongings, and completely at ease.
After receiving her MSN Carol worked as a Pediatric Clinical Nurse Specialist in the community. Then, in 2003 she began teaching in the UBC School of Nursing. She considers it a privilege to work with the bright young women and men who enter nursing today. She loves the excitement they bring, their passion for nursing and the opportunity for her to pass along her own passion for it. "What I hope to do is inspire a love of nursing, while acknowledging the skills and knowledge each student brings with them. I want to support them in their growth toward becoming nursing professionals."
Carol has two grown children who, after a number of years travelling the world, have returned to Vancouver. She also has a beautiful granddaughter of four and one half years who she sees as often as possible. It is a special joy to have her family around her. "When I spend time with my family, I can just feel the stress and tension fall away, especially when I'm with my granddaughter."