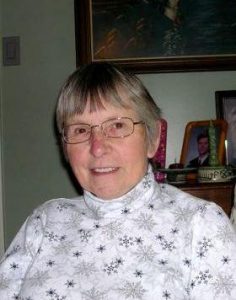 Irene Westwick was born in 1936 in Duncan, British Columbia. She grew up in a boathouse on Lake Cowichan, and later in Honeymoon Bay. In 1954 she graduated from Lake Cowichan High School and joined her two brothers at the University of British Columbia planning to study forestry. She decided on nursing instead, graduating from the School of Nursing in 1959. She began her nursing career working general duty at the hospital in Duncan, the hospital where she was born. After a few months she accepted a position in the maternity ward at the Samuel Merritt Hospital in Oakland, California and there she shared an apartment with a classmate from UBC.
Later in 1959 in San Francisco Irene met Wylie Jones, a structural engineer. They married in 1961 in Lake Cowichan, but returned to live in Oakland. Three children were born in Oakland– Glenn in 1961, Kathleen in 1963 and Sandra in 1964. They returned to Victoria in 1965 and Robert was born in 1967. Irene joined the nursing staff at the Royal Jubilee Hospital's maternity ward in 1970 as an on-call nurse for the night shift and worked there until 1976.
During her children's school years, Irene was involved in the Parent Teacher Association at each school, taking on the jobs of secretary, treasurer and president. She also became a member of the University Women's Club and volunteered in many areas within this association.
When her daughter Kathy entered Camosun College, Irene began to investigate anthropology courses. She began lightly with two courses per semester, but was soon right back into studying, earning a Bachelor of Arts in anthropology from the University of Victoria in 1987.
Irene also began exploring her cultural roots with a trip to Sweden and Norway in 1978 where she met many relatives and began a fascination with family history, returning to these countries many times and having relatives visit her. She also became involved in the Women's Multicultural Society in Victoria and with the Sons of Norway. She ran the summer Norwegian Cultural camps for many years, belonged to the Jenta Klubben (Ladies Club), was part of a group that formed the Swedish Club in Victoria and was on the executive of both the Sons of Norway and the Swedish Club. Irene also volunteered for Revenue Canada completing tax returns for people who could not afford accountants. Irene always looked for ways to support her community and extend her own learning.
When her husband retired in 1995, she helped form a consulting structural engineering company where she was the secretary/treasurer while Wylie was the engineer and president. They travelled widely in British Columbia, Washington, California and Arizona on projects for many years. In 1989 they bought land on Albernie Inlet in Haggart's Cove and Irene became involved in the local Strata Council environmental concerns such as replenishing the shoreline after sewer construction and in bear awareness. She was fond of saying "It is not a bear problem, it's a human problem." Irene loved life in the cove, but especially she loved her grandchildren – Meaghan, Jennifer, Luca, Christopher, Sofia andLauren.
Irene was diagnosed with pancreatic cancer in June 2011 and passed away at home in August 2011.
Provided by Irene Jones and Elvi Whittaker