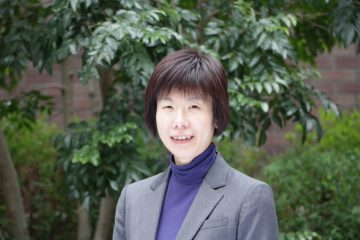 "…the lack of research was one of the reasons I wanted to get the study published. Through publication I wanted to raise awareness of the fact that sexual abuse happens to boys, not just girls, and it can influence the health of abused boys in their later lives. This research has been covered by several news sources… it helps to draw people's attention to this important issue."
What has made your time at UBC the most memorable? 
People. My fellow graduate students and my supervisor have been very supportive, and have provided me with a lot of practical help and moral support. Doing a PhD in a second language was challenging for me; without their support and encouragement I would not have passed my comprehensive exam or completed my dissertation.
How do you feel a degree in nursing has benefited you compared to a different field of study? 
I don't remember why I chose nursing as a profession – it feels like millions of years ago. My mother wanted me or my older sister to be a nurse like two of our cousins, and this may have had something to do with it.
I'm thankful for any convincing my mother did that led me to becoming a nurse. It is not an easy career; I sometimes regretted it when I was younger, particularly during the night shift. I thought, "What am I doing working at 2 a.m.? Why am I changing the diapers of other women's babies in the middle of the night?" (Although, don't get me wrong, I love babies. That is why I became a nurse-midwife). At the same time, it can be a very rewarding career. Every birth is different; it is created by a woman, her baby, their family, and the midwives or nurses. You can keep a long-term relationship with babies whose diapers you changed at midnight, and in some cases I have.
Was it always your intention to go from working as a nurse and a midwife to conducting research, or did this happen along the way? What made you choose to pursue degrees at the University of Minnesota and then at UBC? 
Before going to graduate school, I worked as an instructor at a nursing college in Japan. I found it interesting and I wanted to continue it. However, a growing awareness of my limitations as an educator and a researcher made me eventually decide to pursue graduate degrees.
One reason why I chose to go to graduate school in North America is that I wanted to make my life more adventurous and do something challenging and unexpected. Life is short; we only have one chance to live it. Additionally, some of my role models had completed their master's degrees or doctorates in nursing in the United States. They shared information and their experiences with me, like how to study English to increase TOEFL (Test Of English as a Foreign Language) scores and how to survive graduate studies.
When I came to North America I first went to the University of Minnesota, which offered a research-focused (as opposed to practice-focused) master's program in adolescent nursing. Through this program I met Dr. Elizabeth Saewyc, who kindly became my advisor and continued to supervise my master's thesis after she moved to UBC. She is the reason I did my PhD at UBC.
What attracted you to your research topic? 
When I was in Japan, I had a chance to be involved in sexuality education for fathers of adolescent children. This experience was what first attracted me to research on adolescent sexual health, and it led to my master's thesis, in which I interviewed Japanese fathers of adolescents about family communication about sexuality.
For my PhD I wanted to continue research on teen sexuality but to focus on adolescents rather than their families. Although the family is an important agent of sexual socialization, there are many other factors that can affect adolescents' sexual health and behaviour, and I wanted to tap into these. In particular, my own experience raised my interest in ethno-cultural influences on youth health – I had moved from a highly ethnically homogenous country in East Asia to a Midwestern state in the U.S. where I experienced being an ethnic minority for the first time in my life, and then to an ethnically diverse city in Canada. Fortunately, for my study I was able to use a large-scale survey of adolescents in school across British Columbia (BC Adolescent Health Survey, conducted by the McCreary Centre Society). The amount of relevant information in the survey enabled me to examine personal, psychological and sociocultural factors associated with sexual activity among East Asian students.
How will you, Yuko Homma, go on to make a difference in our world using the skills you have learned at UBC? 
The research and writing skills I learned at UBC have helped me to get published in several peer-reviewed journals so far. In fact, two of my published papers were originally written as final assignments for courses. However, publishing a paper is not the end goal of doing research. For example, my recently published study – co-authored with my friend, Dr. Naren Wang, my supervisor, Dr. Elizabeth Saewyc (Nursing) and the instructor of the meta-analysis course, Dr. Nand Kishor (Educational & Counselling Psychology, and Special Education) – is a meta-analysis of studies on adolescent boys' sexual abuse. The number of studies included in our study was small for a meta-analysis (though the total number of boys was large) because of a lack of research on this topic, but the lack of research was one of the reasons I wanted to get the study published. Through publication I wanted to raise awareness of the fact that sexual abuse happens to boys, not just girls, and it can influence the health of abused boys in their later lives. This research has been covered by several news sources including Health Behavior News Service and MSN.com, and I hope it helps to draw people's attention to this important issue. This is one of the end goals of doing research for me, and this is one way I hope to make a difference.
Text provided by Applied Science Student Related News 2012 interviews
What happened after you graduated, including your current faculty position as Associate Professor?
I returned to Japan in 2015 and started my work as an associate professor of nursing in Mukogawa Women's University located in the city of Nishinomiya, between Osaka and Kobe. The university is one of the largest women's university in my country and will celebrate the 80th anniversary of its founding next year. On the other hand, it has been only three year since our School of Nursing was established. Creating a new history of a long-established university is an exciting experience.
Generally, teaching duties are heavy at Japanese universities. Most of my current efforts are focused on teaching, teaching, teaching – from a general education course which any undergraduate student can take to senior-level undergrad courses, clinical practicum, master- and doctoral-level courses. It is quite tough, but I feel comforted by newborn babies at a hospital where I supervise nursing students.
My years at UBC including PhD program and postdoctoral fellowships are still a great asset to me. I have attempted to utilize knowledge and skills I have learned there for my teaching. For example, I have given some lectures on sexual minority youth and introduced some of our research findings about health disparities between heterosexual students and sexual minority students. "LGBT" has become a familiar term to Japanese people. However, many people do not know what it is or confuse "LGB" with "T". In fact, the newest edition of Kojien, the most authoritative Japanese dictionary inaccurately defined LGBT as "people with sexual orientations that are different from those of the majority." I hope to help increase awareness and understanding of sexual diversity issues.
Despite the long distance between Japan and Canada, I feel the researcher world is small. Soon after I started working at Mukogawa Women's University, Elizabeth Saewyc, my lifetime mentor, introduced a Vienna-based Japanese researcher to me. During his visit to Osaka, I meet with him and his Japanese colleague, who is a professor of educational psychology. The professor has investigated school bullying and happened to be a friend of Stephen Russell, a co-investigator of The Stigma and Resilience Among Vulnerable Youth Centre (SARAVYC). Stephen was invited to speak at a conference last fall. I had a chance to see him here in Osaka, which I would have never imagined. I love this small world!
Update provided by Yuko Homma in 2019