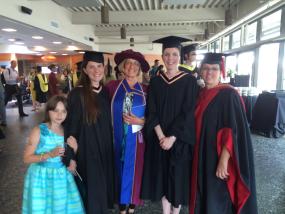 Reflecting back on what has (so far) been a marvelous career, Lynne feels that many of the contributions she has been able to make to nursing and nursing education have been made possible by the learning during her three degrees from the UBC School of Nursing.
Lynne became a nurse in 1967 with a diploma from Kingston General Hospital. Relocating to BC, she worked in ICU and Critical Care at both VGH and St. Paul's Hospital, teaching the occasional critical care course for Vancouver Community College, for the next 15 years before deciding to go back to School in what turned out to be a long period of continuous learning and engaging in inquiry as a research assistant before emerging with her PhD in 1997. Her dissertation research, on the topic of family influence on individual health-related decisions in response to a heart-health initiative, set the stage for what became a stellar career as a scholar and researcher in the field of women and cardiovascular health. Joining the University of Victoria School of Nursing faculty upon graduation from UBC, she rose over the next few years to the rank of Full Professor.
In addition to the teaching and scholarly activity that position entails, Lynne has taken on numerous initiatives and projects in the interests of furthering the development of the nursing profession and the ideas that shape it. Among the many contributions she made to the ongoing dialogue in our profession, she was an active member of BC's Nurse Educator Pathway project, particularly serving on its curriculum committee, and for many years maintained a cross-appointment with the BC Heart Centre at Providence Health in Vancouver, was an affiliate faculty member with the Biobehavioral and Nursing Health Systems Department at the University of Washington School of Nursing, and an adjunct professor at the Gerontology Research Centre, Simon Fraser University. She has given generously of her time to numerous boards, committees, editorial boards, and initiatives, including the Canadian Association of Schools of Nursing's Task Force on End-of-Life Palliative Care and BC Provincial Pain Initiative's Education Strategy Subgroup. She maintained a prolific program of funded research throughout her career, and has published dozens of scholarly papers, book chapters and two books. She has mentored and supervised numerous undergraduate, masters and doctoral students with her characteristic passion and enthusiasm for what nurses bring to the health care system and those it serves.
For Lynne, an intellectual puzzle that has sustained her curiosity is the challenge of clarifying what is nursing. She sees confusion about this in so many places in nursing education, and feels that her three degrees from UBC developed the conceptual foundation that she draws on now when thinking this through and working with others toward clarity. Although she sometimes feels it is a losing battle, she works from a position of faith and persistence, and continues to ensure that graduate nursing curricula challenge future leaders to take this profound question quite seriously in their theorizing.
Another area that has been a significant focus for Lynne is improving pain care. Drawing on core principles of health promotion, she has worked diligently with many partners to bring the issue of ineffective pain care into focus and to develop strategies to address this sad and pervasive issue. Among the many wins she experienced on this particular front was the development of Pain BC. She was on the founding Board of Directors for this organization and worked with others on the conceptualization of the website that is still used today. This website provides rich resources for people living with pain, their families, and health professionals. Lynne is continuing to work on this issue with Island Health Nurses, and as of the fall of 2017, that group had held its third annual pain conference. Lynne attributes her conceptualization of the approach to this initiative as deriving from her PhDstudies at UBC Sch0ool of Nursing, which enabled her to develop a wide range of project planning and implementation skills.
Leading the establishment of the UVic Schools of Nursing Joanna Briggs Institute Centre has been another particularly meaningful contribution for Lynne, as it has opened up space for the development of skills and knowledge to support systematic reviews. She believes this has helped her colleagues and partners to develop skills and knowledge about the methodologies central to supporting nursing practice and therefore made a direct contribution to care and practice quality.
For the past seven years, Lynne has also been a Local Research Investigator (LRI) for the Canadian Longitudinal Study on Aging, UVic site. Data from this study has potential to contribute to knowledge development about the social determinants of health. She has found this to be a brilliant, unique, extremely rigorous study where data is social, physiological, and psychological. Most large data bases have one or two of these types of Data but the CLSA has all three, is longitudinal, and thus is considered to be BIG Science. On the basis of her UBC PhD, she was able to undertake post-doctoral work at the University of Washington, where she had learned about large data bases and their potential to contribute to knowledge about transitions and trajectories of health. Dr. Debra Sheets, co-LRI for the UVic CLSA site, and Lynne are the only nurses working as Local Research Investigators for that major initiative, along with a marvelous interdisciplinary team of scientists.
Over the course of her career, Lynne has been recognized by her peers with numerous awards, perhaps most notably, the Canadian Association of Schools of Nursing Award of Excellence for Teaching in 2012 and the College of Registered Nurses of BC's Award of Excellence in Nursing Education in 2013. UBC is incredibly proud to have played a part in Lynne's remarkable career, and we all appreciate the major contributions she has made to carving a path for the next generation of skilled, knowledgeable, and endlessly intrigued nurses.
Written by Sally Thorne, January 2018