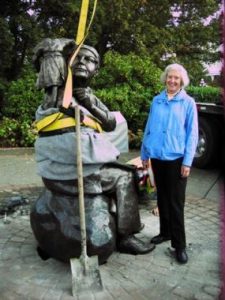 A graduate of the University of British Columbia School of Nursing class of 1959, Ann Geddes was born in Vancouver in 1936 and attended Magee High School as did seven others in the class. She began her nursing career working night shift in maternity in order to be a support in the care of her ailing grandmother. In 1960, after five months in Europe with classmate Maralyn Leask, Ann took a position in public health in Cloverdale for the Boundary Health Unit. Three years later she became an outpatient nurse at the Burnaby Mental Health Centre, gaining experience in chronic psychiatric care and in family and children's services. In 1967 she joined Dr. Alan Steedman and social worker John Snyder to establish the first community mental health service in Prince George for the Caribou, Peace River and Northern Health units and worked in this position for five years. Thereafter she became the administrator of Cranbrook Mental Health Services which covered the East Kootenay area from Golden to Fernie and Creston. Following t59hat, in June 1973, she was recruited to the newly established Greater Vancouver Community Mental Health Service as the Coordinator of the West End Community Mental Health Team. She held that position until 1978 when she returned to a part time staff position with the Strathcona Mental Health Team while taking qualifying courses for the Health Care Planning and Administration in the UBC School of Health Care Planning and Epidemiology.
Having developed a strong interest in public policy, in 1973 Ann entered a three-year diploma program in public administration at the University of Victoria. Notably she was the only woman in a class of 29. She followed this up in 1979 by returning to UBC for two years to earn a Masters in Health Care Planning and Epidemiology, with Ann Creighton as her thesis adviser. The resulting thesis "The Challenge of the Canada Act, 1982 to Existing Mental Health Legislation: Implications for Planning, Mental Health Legislation and Rights in Canada" studied the implications of this act for mental health planning and legislation. The Canada Act was of interest to health planning and policy makers, as it was the first time that rights and freedoms were protected in national legislation. The thesis was accepted and M.Sc (Health Planning and Administration) conferred June 1984.
Ann accepted a position as a public health nursing consultant in the British Columbia Ministry of Health from 1982-86. In September 1986, she assumed the position of the Director of Community Health Services for Halton Region, Ontario, working for the first time outside British Columbia. The experience gained during the three years in this position was invaluable for her remaining years in administration in community health. The Halton Community Health Services included Public Health Nursing, Health Education and Promotion, plus the long termcare nursing and physiotherapy services. In December 1989 she became the Director of Health Promotion for the Capital Regional District Health Department in Victoria, retiring from the position in 1997. It was the year that Community Health Services and Acute Health Services were organized as a Regional Health Authority. She saw it as an ideal time for her retirement while creating an opportunity for upcoming community nursing leaders to develop the programs in the new organization.
Immediately following retirement in 1997 she visited Toowoomba, Australia to be the caregiver for a friend's mother's final months. Two work opportunities followed her retirement; they were the development of Regional Children and Family Services for Vancouver Island and the creation of a national case management and immunization e-record. The first from 2003 to 2005 was a contract with the Ministry of Children and Families to develop the service model of regional governance, with the involvement of the community providing significant support in children's development to their full potential. This initiative was to be rolled out in the five regions of the province along with the parallel work of Aboriginal leaders for their children and families. The goal was to shift the emphasis of a service protecting children to one that supported growth and development of children in their families and communities. The work came to an abrupt end with a ministerial decision to focus on services managed provincially with less community connection, a philosophy that did not recognize Margaret Mead's belief that "it takes a village to raise a child."
The second interesting contract experience (2006) was with IBM for the development of a national electronic health system for disease outbreak management and immunization. It was of national interest in Canada and China, following the SARS outbreak and a measles outbreak which began with primary case being a team member at an inter-provincial youth sports championship. This contract made use of Ann's past experience in public health nursing, administration in two provinces with different immunization models, and had the bonus of meeting with bright young programmers and leaders in the health division of IBM.
Since retirement in 1997 she has continued volunteering for community agencies, a practice which began for her in high school with a bi-weekly commitment cleaning IV tubing for the Red Cross. Over time her volunteerism has been as a board member, as a chair with organizations such as the James Bay Community Health Project, the Community Social Planning Council of Greater Victoria and, since 2006, chairing the Parks and Recreation Foundation of Victoria. The latter involved her leading the foundation fundraising to honour Emily Carr with a statue created by Barbara Paterson and unveiled on October 13, 2010 ($420,000 raised in two years).
In recent years she has enjoyed musical events, figure skating championships, and visiting Turkey, Greece, Portugal, Vienna, Switzerland, the Yukon, river rafting on the Nahanni, and a Baltic cruise. The trips included visits with friends, with her family in the Maritimes and special concerts such as New Years in Vienna. It has been a good life experience, and, she believes that the method of learning or providing nursing care learned from the UBC program gave a solid foundation for her work as a public health nurse, community mental health nurse, in administration of both community mental health and public health, and as a preceptor for nursing students or beginning practitioners. An education which stood the test of time with the introduction of new techniques and new understanding of health issues from research.
Ann was awarded the Queen's Diamond Jubilee Medal for Community Service in 2012.
Written by Ann Geddes and Elvi Whittaker
Ann died in Victoria BC on October 24, 2021. https://www.echovita.com/ca/obituaries/bc/victoria/beatrice-ann-geddes-13566813