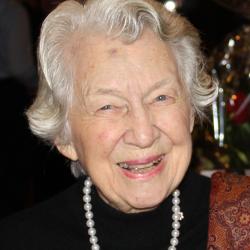 UBC School of Nursing Honorary Professor Dr. Verna Splane O.C., M.P.H., LL.D., F.A.P.H.A., R.N., died in the early hours of SaturdayJanuary 10, 2015 in Vancouver.
A longtime resident of Vancouver, but a distinguished citizen of Canada and world, Verna Huffman Splane was one of the most pre-eminent and influential nursing policy leaders of her generation.  A public health nurse and policy advocate, she was a pioneer on behalf of nursing through her extensive international health and development work with the World Health Organization and the International Council of Nurses, including consultations across many different countries.
Born in 1914 into a Peterborough Ontario family with limited financial resources but with high principles for community responsibility, Verna Huffman was always a top student in her early school years. At the time she graduated during the depression years, a university education seemed far out of reach. Instead she opted for nursing, obtaining her RN diploma from the Peterborough Civic Hospital School of Nursing in 1937. She subsequently joined the Victorian Order of Nurses, which was beginning to expand its capacity in public health and community based nursing. Over the years, she continued to expand her educational base, obtaining a Certificate in Public Health Nursing from University of Toronto (1939), a Bachelor of Science in Nursing from Teacher's College Columbia in New York (1957), and a Master of Public Health degree from Michigan University (1964).
Over the course of her career, Verna held a number of major employed and voluntary positions in Canada and abroad. She became Canada's first principal nursing officer – the highest office held by any nurse in the country (1968-1972). She also served as a vice-president for the International Council of Nurses for two terms during 1973 and 1981. She was elected vice president of International Social Service, an organization based in Geneva that was dedicated to improving the lives of people affected by migration and international humanitarian crises.
During her time in Ottawa, Verna married Dr. Richard Splane, a social worker by profession who had served in the Dept. of National Health and Welfare in Ottawa from the early 1950's to the early 1970s, becoming widely known as the chief architect of progressive public policies such as the Canadian Social Assistance Plan. His strong interest in international social welfare led to his work with a number of nongovernmental agencies, including UNICEF, before they came to Vancouver, where Dick was a distinguished academic leader in social policy and social work. As a "retirement project," Verna and Dick conducted a seminal 53-country study of the roles of government chief nursing officers. This project culminated in the publication of their major book Chief Nursing Officer positions in National Ministries of Health: Focal Points for Nursing Leadership in 1994. Although Verna had worked closely with the UBC School of Nursing in various capacities since the 1970s, in 2006 she was granted the distinction of being named an Honorary Professor, a position she held until her death. In November of 2004, on the occasion of her "first 90 years," Richard Splane and UBC Nursing Director Sally Thorne co-hosted an "An Afternoon of Dialogue and Reflection" on the remarkable nursing career of Verna Huffman Splane. Nursing dignitaries from around the country gathered at UBC to examine the impact her professional leadership continued to have on health policy.
Verna's contributions to the nursing profession and to health internationally have been recognized  with the Award of Merit of the Registered Nurses Association of British Columbia (1987), the Order of Canada (1996), Queen Elizabeth II Silver and Gold Jubilee medals (1977 and 2002), the Jeanne Mance Award, which is the Canadian Nurses' Association's highest honour (1982), the Canadian Red Cross Distinguished Service Award (1981), the Lillian Carter Center for International Nursing Award (2001) and honorary doctorates from Queens (1980), St. Francis Xavier (1989), UBC (1996) and the University of Toronto (2007). She was also the first Honorary Life Member of the Association of Registered Nurses of BC (2013).
Verna was delighted with the attention generated by her 100th birthday (November 23, 2014), although she expressed the sincere hope that she would be remembered more for her professional accomplishments than for having lived beyond her time. With a characteristic twinkle in her eye, she graciously accepted the congratulations, and then turned the conversation back to more important things, such as the pressing nursing issues of the day. Until the end of her life, she remained highly enthusiastic about the political and policy doings of nursing. She greatly valued her extensive network of nursing colleagues near and far, and despite failing health, was always delighted to hear of their activities and accomplishments. A true mentor to many, she never ceased to be able to articulate the most penetrating questions, and call her colleagues to account for their progress in addressing the challenges facing the profession. In the words of one of her colleagues, "She, and her career, were the stuff of legends."
Verna died in the early hours of Saturday January 10, 2015 at Crofton Manor in Vancouver with her beloved Dick at her side. A service of remembrance was held later that month at UBC, attended by nursing leaders from across the country.
Contributed by Sally Thorne
January 2015