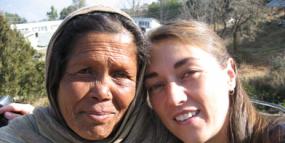 Christine Fantuz graduated from the UBC School of Nursing in 2007 and presently works in an Intensive Care Unit (ICU) for the Calgary Health Region in addition to a position as a clinical instructor at Mt. Royal College, teaching first-year students in their BN program.
During the nursing program at UBC, Christine did field placements in a number of nursing specialty areas such as maternity, mental health and geriatrics, and was surprised at how the tools from each aspect of nursing transferred into the next. During an international placement in Nepal with fellow graduate Julia Iwama, Christine was able to share information from her leadership and management course. "Julia and I didn't bring any notes with us from that class because we figured we wouldn't need them in Nepal, but there we were talking about change theory, organizational charts and transformational leadership because the hospital would soon renovate and expand."
One of Christine's long range plans is more international relief work — to provide care in Third World countries to children, to orphans or to whomever is in need. "Wherever you go, people need health care," she said. And in Nepal, where the life expectancy is 48.9 years, Christine believes they could also benefit from education. "I really believe that education is the root to making a difference," she said. "I'm not a believer in doing 'for,' but rather in doing 'with.' I'd like to be able to
empower people and get them excited to make positive health changes in their lives."
Christine was awarded the Karen Elaine Florence Madsen Memorial Scholarship in 2007– an award given by the School of Nursing to a final year student who shows not only outstanding personal qualities but high academic achievement and a true dedication to the nursing profession. "When I saw the award online, understood the reasons for it, and recognized that it had been recommended by the faculty I was ecstatic, honoured and overwhelmed," she said. "When it arrived, I was trying to figure out how I could possibly finance my clinical learning in Nepal," said Christine. "I was determined to complement my nursing education with an international experience in a Third World country so this award helped immensely."
"I feel very fortunate," she said; and the School feels fortunate to have graduates like Christine who combine their life experience with new learning to offer thoughtful, compassionate and effective care to those in need wherever they find them.