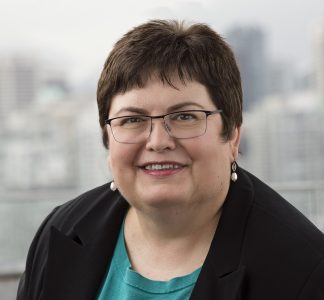 Bernice Budz, MSN, RN, CNCC, ARNP, has had a rich and diverse career so far. Following her MSN at UBC School of Nursing, she relocated to Seattle and obtained her Adult Nurse Practitioner degree while working as a Clinical Nurse Specialist in Critical Care. After relocating to Bellingham, she was involved in the development of the Cardiac Care Center at the St. Joseph Hospital in Bellingham including co-creating the cardiac assist device program. She adopted the Institute of Healthcare Improvement practice standards which she put into practice in both Seattle and in Bellingham. Returning to BC, Bernice was the first cardiac clinical nurse specialist and led the program development of the Heart Transplant Program at St. Paul's Hospital.
Bernice has also served on boards of directors in various roles. She became very active in the Canadian Association of Critical Care Nurses and was involved in developing the first Canadian Critical Care Certification exam. She also served on the inaugural board for the World Federation of Critical Care of Nurses. She recently completed the Canadian Executive Fellowship Quality Improvement and Leadership Program.
Colleagues attest that Bernice has always had a strong commitment to the nursing profession. Throughout her career, she has launched many "firsts" in clinical practice and has also demonstrated leadership in education, quality improvement, and research. She has a strong interest in improving systems and processes to better serve patients and improve the quality of work-life for nurses. She has been very active in supporting the profession provincially and nationally and has always believed in fostering younger nurses.
Bernice's career illustrates how she has managed to combine her clinical and administrative skills. Recently, Bernice held the position of BC Cancer's Vice President of Patient Experience & Interprofessional Practice, overseeing all areas of oncology nursing – including more than 500 nurses across six B.C. centres – as well as supportive care, including psychiatry, counseling, nutrition, therapy, and social work.
Prior to that position, Bernice was the interim Dean of the School of Health Sciences at British Columbia Institute of Technology, having earlier served as its Associate Dean for the BSN Nursing Program. Within these roles, she worked to obtain numerous accreditations, supported faculty in curriculum development and in developing applied research. She had a real passion for engaging students and supporting their careers into clinical practice, and played an active role in the development of nursing education provincially through her work with the Nursing Education Council of BC.
Among the earlier roles she played along the way, Bernice was manager of Cardiac Surgery ICU,  PACU, and Surgical Day Care at St. Paul's Hospital, and became its first cardiac clinical nurse specialist. She collaborated on nursing research on smoking cessation in cardiac areas with Joy Johnson, Pam Ratner, and Joan Bottorff. Later, as Provincial Director of Cardiac Services BC within the Provincial Health Services Authority, she networked across the province to support cardiac care standards and quality indicators. She also was co-collaborator with Rosalie Starzomski and Anita Molzahn on research regarding organ donation in critical care.
Bernice's leadership has been recognized in numerous ways over her career. For example, she received the Canadian Association of Critical Care Nurses' Lifetime Achievement Award and the Excellence in Nursing Leadership Award from the Nurses and Nurse Practitioners of British Columbia. In 2019, she also received the UBC School of Nursing's Centenary Award for her exemplary contributions as an alumnus.
Education has always been paramount for Bernice. That commitment continues today with Bernice's involvement with UBC, working with both faculty and students, helping to create opportunities for them to pursue in their careers, whether in clinical work, education, or research.
Submitted March 2021
by Bernice Budz with Sally Thorne