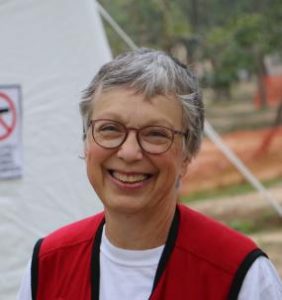 Original Story (2009)
Genelle Leifso is a '71 graduate of the Holy Cross Hospital School of Nursing in Calgary. With a husband in the Canadian armed forces, they lived in various cities across Canada. This enabled Genelle to have many interesting positions and opportunities.
Genelle's pre-BSN work history focused on emergency and perioperative nursing. It seemed that wherever she moved, nurses with these skill sets were always in demand. She has spent 15 years in paediatric nursing.
"One of the things that I have learned throughout my career is how valuable nursing knowledge can be to a variety of settings and endeavours." In 1977 Genelle was hired by the Children's Hospital of Eastern Ontario (Ottawa) to work within the Volunteer Department. She assisted with interviewing, placing, and monitoring hospital volunteers. At this time, parental presence in the hospital was not common, and she was able to initiate a program utilizing volunteers to assist with feeding infants and toddlers who were appropriately identified by ward staff. Another aspect of this job involved conducting hospital tours for interested community groups. It was particularly fun when she toured groups of Brownies and Cubs. With her perioperative background, she was able to spend some time talking about what it was like to be in the hospital as a patient, and what usually happens when kids come for operations.
When Genelle eventually found herself in the Lower Mainland working at BC Children's Hospital; she decided that she wanted more education. She enrolled in the RN-to-BSN program at UBC as a part-time student in 1994. It was a bit daunting at first, because, at this point, she hadn't been in school for more than 20 years. She enjoyed everything she did during her BSN and, in the end, took more courses than were required, including medical anthropology, bioethics and technical writing. She loved it all and states, "You never know what opportunities will appear in your life" and how these subjects might be useful.
One of those opportunities came in 1997. She was hired as one of the first four Nurse Advisors at Worksafe BC. The nurse advisor position was not defined, and Genelle found herself working with case managers (interpreting client medical reports and treatment plans), and working with physicians (facilitating client surgery and ongoing rehabilitation in the community). She thought that there might be a particular niche for herself as an advocate to help those people who fell through the cracks of rehabilitation services. She decided that further education would be important, and so, in 1999 she enrolled in the UBC MSN program, once again a part-time student.
But she missed speaking directly with patients. And so, in 2001 she returned to acute care at Vancouver General Hospital. Shortly after beginning work in their operating rooms, she was asked if she would apply for the clinical educator position. Her answer was "Yes!" She continued taking her MSN, but with the support of her manager was able to organize a leave of absence and complete her course work.
Once again, Genelle loved the process and content of her Master's courses. "I learned so much," she said. Completing her thesis allowed her the opportunity to explore her interest in the professional identity of nurses. Financial support came through several UBC bursaries and scholarships, VGH Alumnae bursaries and scholarships, and the BC Registered Nurses Foundation. A highlight for her was to be the first recipient of the Canadian Nurses Foundation Helen K Mussallem Fellowship, and to have the opportunity to meet and visit with Dr Mussallem.
Genelle is committed to sharing her knowledge and skill. She is active in the BC Operating Room Nurses Society, the BC History of Nursing Society, and is now trying to feed a newer passion for international nursing. She has been on two surgical missions to Cambodia with Operation Rainbow Canada and will be going with this group to Indonesia in 2009. Although this work is primarily humanitarian, she hopes that there will be opportunities to work towards developing the perioperative nursing capacity of the communities she visits. She is looking forward to working with the Canadian Network in Surgery and Department of International Surgery in the Faculty of Medicine at UBC, helping to use Canadian perioperative nursing knowledge to support nurses involved in patient care in other parts of the underdeveloped world.
Genelle has been a registered nurse for 38 years. "I've loved every minute of it." Genelle and her husband have two children and three grandchildren. She enjoys the outdoors, gardening, singing in her parish choir and being actively involved in her community. "I love it all" she said.
Updated Story (2018)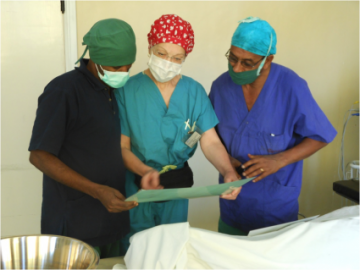 Despite her original plans, Genelle didn't go on that 2009 Indonesia trip. While she still believed that practical humanitarian work was very important, she also knew that her skills and experience could be more impactful in the realm of education. It was with this realization that Genelle turned her talents towards educational humanitarianism. Her new direction lead Genelle to the Canadian Network for International Surgery which proclaims itself to be "committed to empowering low-income countries to create an environment where the risk from injuries is minimal and that all people receive adequate healthcare". This message of empowerment is founded in education and knowledge diffusion, both of which Genelle could provide.
Genelle began her humanitarian career with her own personal education, attending workshops, seminars, and discussions about how best to work with nurses in low-income settings. The message that she took away from these workshops was that there was a dramatic disconnect between modern, updated surgical practices and those techniques used by many third-world nurses. Though many universities did have outreach programs for surgical education in low-income countries, they were usually offered to medical students and surgeons exclusively. Nurses working in these environments had little opportunity for either basic or continuing perioperative education. As a result these nurses had little understanding of how or why perioperative practices and surgical techniques contribute to patient safety and optimal outcomes during surgery.
This lack of uniform international perioperative education became the target of Genelle's humanitarian work. In 2009, under the auspices of the CNIS, Genelle facilitated in a pilot project with four Ethiopian nurse leaders, using the World Health Organisation's 'Safe Surgery Checklist'. Together they provided several two-day perioperative nursing courses based on the WHO checklist. Using the knowledge gained during the course, the Ethiopian nurses identified a number of areas in their practice which, if changed, could improve patient outcomes at their hospital – Tikur Anbessa (Black Lion) Hospital, Ethiopia's primary surgery teaching hospital.
Unfortunately, despite having presented their action plan to the Head of Surgery at Black Lion, nothing came of it. Discouraged, within 1 year, these nurse leaders all left their positions at the Black Lion Hospital. It became clear very quickly that many of the nurses she trained lacked the knowledge and confidence to be change agents in their practice environment. Undeterred, Genelle went to the CNIS again. Together they developed a new plan, and Genelle began writing up a course of workshops designed to encourage a low-income, safe-practice education based on the "train-the-trainer" model. The plan ran from 2009 to 2015, and served as a springboard for nurses to independently educate their peers.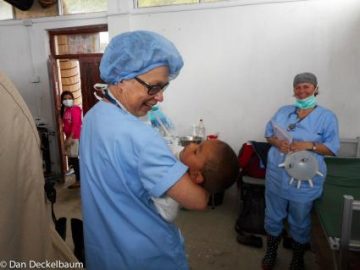 After another trip to Uganda, Genelle developed more workshops on one of the simplest, yet most important aspects of perioperative nursing: sterilisation. This project has since been almost completely passed off to another Canadian perioperative nurse colleague. The intent is to provide low-income perioperative nurses with the knowledge, skill, and ability to train their peers, and monitor and maintain their improved practices. Practice sustainability is the ultimate goal of this work.
Genelle says, with some sadness, that when she approached these numerous projects, she was coming from a position of privilege. International work similar to hers was made possible through her ability to self-fund. Nursing projects, she explains, have insufficient funding to spread all the knowledge they have to offer. She continues to hope that the value of these education projects will be recognized and, consequently, better funded in the future.
Genelle has shared her experiences and the importance of perioperative education for nurses at conferences in Canada (e.g. Bethune Roundtable, ORNAC) as well as internationally (e.g. Trinidad, China). She is now a delegate with the emergency response unit for the Canadian Red Cross. This new role has allowed her to continue sharing her perioperative nursing knowledge and skill internationally such as with relief efforts following the Nepalese earthquake project and work with displaced populations in Bangladesh.
After an impressive 47 years of working in nursing, Genelle likes to look back at everything she was able to do (both successes and setbacks) and consider how she has been able to make a difference in the world of perioperative nursing (both with her Canadian and international colleagues). While she is technically retired, Genelle says that nursing was never "just a job" for her and, this being the case, she can't really stay away. She still works casually at the Chilliwack General Hospital OR. She refers to herself as a "continual bloomer".
With five grandchildren and decades of nursing work behind her, Genelle passes two pieces of advice to nursing students and new nursing graduates. The first is to never underestimate the power of soft skills – "learning to operate equipment is easy compared to the intricacies of navigating and negotiating interpersonal relationships". The second piece of advice is an insight that Dr. Helen Mussallem gave to Genelle when she was still a post-grad. Never stop asking yourself one question: at the end of each day I ask myself, what did I do today that made a difference?
Update written by Athena Kerins