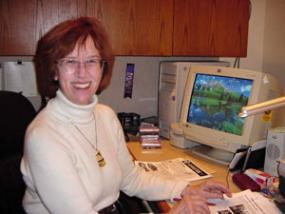 Ethel began her professional nursing career as a pediatric nurse at Vancouver General Hospital's Health Centre for Children, demonstrating an aptitude for teaching at such an early stage that she joined the VGH School of Nursing faculty only a year after graduation. At VGH, she initially taught in pediatrics, but soon shifted to adult medical-surgical nursing, which became the focus of much of the remainder of her nursing education career. Returning to the student role as a member of the first MSN class at UBC, she completed a thesis on the Concerns of Mothers Whose Children are Hospitalized for Minor Surgery in a Day Care Unit under the supervision of Dr. Alice Baumgart. On graduation in 1970, she was immediately appointed by Beth McCann to the UBC School of Nursing faculty, where she was tenured in 1975.
Over a long academic career at UBC, Ethel was a leader in both undergraduate and graduate education. At the undergraduate level, she was one of the "med-surg" team, often coordinating courses and years as well as developing lectures, seminars and labs to meet the evolving health care system needs. She served on and chaired a wide range of committees, and supervised many undergraduates in their guided independent studies in her field of expertise. She was also active at the graduate level, especially with regard to advising students in the area of clinical teaching. Among Ethel's many "firsts" was being the faculty member responsible for the School's very first "outreach" lecture, televised live on the Knowledge Network in early 1982. During those faculty years, she was also an active researcher, publishing several papers on such topics as clinical teaching and clinical decision making in collaboration with colleagues such as Judith Mogan and Anne Wyness. While on faculty, Ethel also she gave inservices to a wide range of hospitals, played an active role in such professional organizations as the Society for Peripheral Vascular Nursing and the RNABC Board, and served on the executive of the Nursing Division of the UBC Alumni Association. Perhaps foreshadowing a career post retirement, she also became a member in 1990 of both the Nursing History Group of the RNABC and the Canadian Association of the History of Nursing.
On Ethel's retirement from the faculty in 1994, she was appointed Assistant Professor Emerita. That same year saw the publication of "Legacy: History of Nursing Education at the University of British Columbia 1919-1994" with co-author Glennis Zilm. The book was a triumph of historical documentation, produced on the occasion of the School's 75th anniversary, and became a treasure that remains highly cited and referenced today. Since that time, Ethel has been a tireless leader in the BC History of Nursing Society, the Oral History Project, and a wide range of historical projects, exhibitions, displays andevents. She is a member of the VGH School of Nursing Alumnae executive as chair of the publicity committee and co-chair of the archives committee. She continues to support the School and the Nursing Alumni with her enthusiastic historical exploration, relentless digging for information, and her meticulous attention to detail. In 2005 she received the RNABC Award of Distinction.