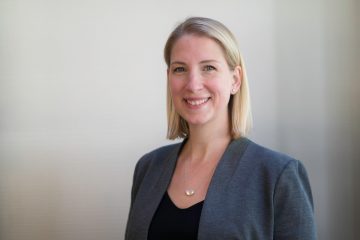 What is the focus and the background of your research?
I am a Registered Nurse with a PhD in Nursing from the University of British Columbia, where I studied adherence to adjuvant endocrine therapy after breast cancer. My research is focused on examining patient perspectives across the cancer care trajectory including diagnosis through the end of life. In my current role as a CIHR-MSFHR Postdoctoral Fellow at BC Cancer my program of work is specifically focused on identifying and mitigating barriers impeding effective care transitions for women diagnosed with breast cancer, including transferring follow-up to primary care settings. My aim is to determine how to most effectively provide quality and efficient health services and deliver excellent person-centered care across the cancer care trajectory.
Why did you decide to pursue a graduate degree?
Nursing is a second career for me. Before becoming a nurse, I worked in finance for several years. After my BSN I became intrigued with research and envisioned it might be a good way to apply my nursing disciplinary knowledge and business background. To reach that next level in my career, I would need a Masters degree. In deciding which Masters program to pursue, I also considered law school and a MBA, but nursing won.
What aspects of your life or career best prepared you for your UBC graduate program?
Entering nursing with a fair amount of life experience and a previous career prepared me well for the MSN coursework. A year into the MSN, I fast-tracked to the PhD program. That was a big jump. The rigor and level that you are upheld to is very high. The way I think and approach many aspects of life was forever changed after my doctoral training. I feel very privileged to have gone down that path and studied under internationally known nursing scholars such as Drs. Sally Thorne, Paddy Rodney, and Colleen Varcoe.
What is it specifically that your program offers that attracted you?
The UBC PhD in Nursing degree is an internationally recognized rigorous training program designed to equip trainees with the competencies and skills to prepare for leadership roles in a broad array of settings including academia, government and health systems. I like that the PhD program at UBC included core curricular components related to the philosophy of science and evidence, leadership in knowledge application and translation, and extensive training in quantitative and qualitative methodologies and statistical analyses. I'll always remember one of my professors stressing there should always be a little bit of 'Ph" (meaning philosophy) in a PhD.
Why did you choose to study at UBC and what was the best part about UBC life?
Once I decided to pursue an MSN, UBC was an easy choice. I was fortunate to already live where I had access to a world-renowned institution with leading nursing scholars. I grew up in Vancouver, but never really spent any time at UBC, so the beauty of UBC was a surprise for me. I'm still in awe of how incredible the campus is and all the amenities it has to offer.
Looking back, what aspects of your graduate program did you enjoy the most? What aspects were the most challenging?
I enjoyed the people and the training environment the most. The nursing faculty is exceptional at UBC and I was well supported by my supervisory committee. Developing the writing skills to communicate effectively at a PhD level was the biggest challenge. Looking back, it's remarkable how much your writing can progress over a few years. From the beginning, my primary supervisor, Dr. Lynda Balneaves, really invested in me as a student and provided a lot of writing feedback, which was so helpful.
How do you envision connecting your PhD work with broader career possibilities?
Yes, absolutely! As a Registered Nurse, having a PhD opens up endless career possibilities with the option to work in academia or public and private sectors. I was fortunate to receive funding from CIHR, MSFHR and BC Cancer to advance my dissertation work in a 2-year postdoctoral fellowship. The rigorous preparation at UBC provided an important foundation in understanding the manner in which health policy, academic research and clinical practice intersect to influence health system performance and patient outcomes.
How does your research engage with the larger community and social partners?
Being embedded in the operations and organization culture at BC Cancer has been a game changer in partnering with key stakeholders including patients, healthcare providers, health system and policy decision makers. My research and postdoctoral role has enabled me to collaborate with an interdisciplinary team on research and health system initiatives aimed at making evidence-informed improvements in care, better patient outcomes and increased system performance.
Do you hope your work can make a contribution to the "public good"?
That is my main goal. I think that's always the goal of nursing-led research. As an applied discipline, our nursing mandate centers on attending to the ways we can improve health and health outcomes, both at an individual and population level. I left finance to pursue a career that was more meaningful to me and nursing definitely checked that box. During my first couple of months at BC Cancer I was invited to participate in the development of a business case for a clinical program. It was a full circle moment for me, because this program is a model of care that I advocated for in my dissertation. Applying my research findings to support the need for this program was a unique knowledge translation opportunity. Seeing your research results have real-world application is fun and very rewarding!
What do you like to do for fun or relaxation?
I have three kids. I actually had all three babies during my PhD program. So, my little people keep me busy outside of work. I also make time to connect with friends and family. I think is an important part of maintaining your sense of identity as a working mother.
What advice do you have for new graduate students?
The path through graduate school is not always straight forward. I always say finishing a PhD (or an MSN for that matter) has more to do with persistence than anything else. You are not an imposter. It may always feel that way, but you aren't. Aim high. Pursue something you are passionate about because the academic and health system environments can be challenging. Interest and curiosity will help you persist through the obstacles you will inevitably encounter along the way. Find your people. Working with 'good' people that you like, but also respect and trust makes work a lot more enjoyable.
Where do you see yourself in five years? Ten years?
My family and I are very embedded in our community here in Vancouver, so I expect I will still be here in 10 years. Ultimately, I hope to have a career that bridges academic and health system environments, which could take on many forms. Still trying to determine exactly what that will look like, but I think it's possible.
What do you see as your biggest challenge(s) in your future career?
Balance. It's easy to want to be involved with the numerous opportunities open to you as an academic and healthcare professional. I imagine that finding some sense of balance between 'work' and personal life will always be tricky.
How do you feel your program has prepared you for those challenges?
The PhD in Nursing program at UBC is excellent and you will be well equipped to navigate career-related challenges. I feel confident that the competencies I learned in my doctoral training have prepared me to generate research that drives evidence-informed policy and quality improvements to address current and future health and health system challenges.