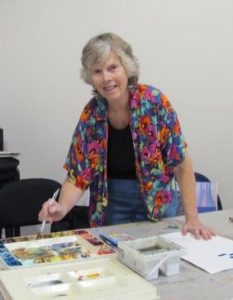 Margaret McRae was born in 1936 at Royal Columbian Hospital in New Westminster. For the first four years she lived there with her parents and maternal grandparents. The family then moved to Vancouver where her sister Ellen was born. Her father became principal at Brock School and was president of the British Columbia Teachers' Federation in 1945. His untimely death of a brain tumour in 1950 left her mother with two children to raise. She made the decision to go to Normal School to complete her teaching certificate. Margaret attended Kerrisdale Elementary, Point Grey Junior High School, graduated from Magee High School and from the UBC School of Nursing in 1959.
In 1958 Margaret married her high school sweetheart, Tony Threlfall, and returned to UBC to complete the final year for the baccalaureate. Until daughter Shari was born in 1959 she worked as a maternity nurse at Grace Hospital. In the years that followed, with the birth of Susan in 1961 and John in 1964, she found nursing work that allowed her to be a stay-at-home mom. This included teaching prenatal classes, occasional special hospital nursing and the Public Health Clinic in New Westminster. Then, with a social work friend, she started Burnaby's Planned Parenthood Clinic. Occasional weekend work at a doctor's office and even a stint as the nurse on duty at the T. Eaton Company all managed to keep an interest in nursing, although all this "keeping a hand in," was not a career.
During the first year at UBC Margaret discovered a love of painting, serendipitously taking an evening class with Joseph Plaskett, the one year he taught at UBC before leaving for Paris. She wanted to head to Paris where the impressionists were inspired. Over the years, whenever there was time, she enrolled in continuing education classes, studied in seminars with some of the best west coast artists, and entered her work in shows and competitions. A turning point for her was 1979 when she discovered the medium of water colour and 2009 when she discovered an inspirational and semi-abstract technique while attending Metchosin Summer School of the Arts under Brian R. Johnson's instruction.
The in-between family years was dedicated to raising their family and for Tony taking the plunge in establishing his own business in Vancouver, Beta Industries Ltd. In 1984 the success of this business allowed them to take a new direction with a move to Salt Spring Island. They established a flock of Border Leicester sheep and Margaret's skills in obstetrics were useful with lambing. Their challenge for city dwellers was to see how self-sufficient they could be on a small acreage. They grew vegetables, learned to spin, and care for chickens, rabbits, a dog, two cats and one donkey for guard duty. These beautiful surroundings are the focus of her art in her studio, Serendipity Studio, and a continuing joy in sharing her island vision with visitors.
Margaret and Tony have great pride in their children. Shari is the Financial Director for Calgary InLiv Health. Susan recently retired from a career at Certified General Accountants Association as Special Projects Coordinator to live in small town, Oliver, B.C. John has returned to his alma mater, University of Victoria, as a sessional instructor and Communications and Special Projects officer for the Fine Arts Department. They also enjoy watching the progress of four grandchildren and two great grandchildren.
Prepared by Margaret Threlfall and Elvi Whittaker