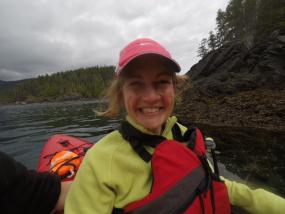 Elizabeth-Anne (Allder) Armstrong did not always know she wanted to be a nurse. She began her university education in 1981 with two years of Arts at UBC and then started searching for a professional program and found that the Nursing curriculum combined both arts and science courses, which was appealing. The first year course introducing the UBC Model for Nursing and the clinical course in extended care, which was taught by Shelagh Smith (BSN '50, MSN '82), were exciting revelations to her as to the scope of nursing practice. During her BSN, Elizabeth-Anne participated as a student representative on several committees and she also had opportunities to work on research projects with faculty Sally Thorne, Carole Robinson and Ann Hilton which piqued her interest in furthering her nursing education in the future.
After graduating in 1987, Elizabeth-Anne worked at Shaughnessy Hospital on a cardiac-respiratory ward and also "floated" to all areas of nursing practice, and especially enjoyed working on the Spinal Cord Injury Unit. She soon headed back to the UBC School of Nursing to work as a clinical instructor for the med-surg rotations in second year. She was working with a large group of enthusiastic colleagues all new to instructing. It was a great experience as they all loved the work and many carried on to undertake the MSN on a part-time basis as they continued to teach clinically.
After completing her MSN in 1996, Elizabeth-Anne returned to teaching, this time in the UBC Learning Lab, another rewarding teaching experience with colleagues like Cheryl Entwistle, Cathryn Jackson, Dawna Claxton and Tracy Truant. Elizabeth-Anne married in 1988 and as her family grew to three children she needed some flexibility in her work schedule and fortunately found research associate work with Jo Ann Perry on her project investigating the experience of the caregivers of dementia patients. Later, she worked for several years as the Project Coordinator for Sally Thorne's work on Communication in Cancer Care.
While working with Jo Ann Perry, Elizabeth-Anne had the opportunity to teach clinical groups in the undergraduate gerontology course. The placement was Home Care, which was a new area of practice for Elizabeth-Anne and one which she became very excited about. Once her children were in school she sought experience in front line home care nursing and has been working in the DTES, Strathcona and Grandview-Woodlands neighbourhoods since 2009. She also briefly returned in recent years to clinical teaching for UBC and has taught fourth year students in their community health placements.
Elizabeth-Anne's passion for nursing, which was sparked during her undergraduate days and fuelled through her long relationship with UBC School of Nursing, has been – along with her busy family – a sustained joy in her life. And as a lifelong learner, she continues to find new and different ways to apply that passion to service.
Written by Sally Thorne