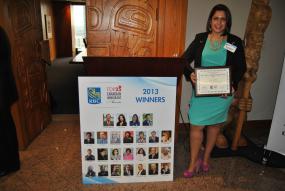 2013 BSN Graduate Sara Eftekhar has already made an enormous mark on the world. She embarked on her nursing education having already created an exceptional foundation of skills, networks and credibility from which to build a professional role that will undoubtedly make a global difference.
Immigrating to Canada from Iran at the age of eight, Sara was the only Middle Eastern person in her Richmond BC elementary school at that time. Her early struggles communicating in English and trying to fit in to an unwelcoming school community eventually triggers an early activism around school environment and engaging others to try to make a difference. By the time she arrived in high school, her commitment to creating community was solidified, and leadership became an important part of her new identity.
On the basis of these early experiences, Sara became highly active in supporting refugees who need help adjusting to life in their new country. She volunteered for numerous local organizations, advocated for global health causes alongside Senator Jaffer in Parliament Hill in Ottawa.
Sara entered the nursing program at UBC to expand her capacity to make a difference. During her program she worked with disenfranchised populations in Vancouver's Downtown Eastside, served as the B.C. Youth Ambassador for the Canadian Council for Refugees and served as President of the Civic Association of the Canadian Iranians Youth Group. Ultimately her volunteer work has taken her to nine countries and brought her skills to the attention of many organizations and initiatives.
Sara represented Canada at several international conferences as well as the prestigious Ship for World Youth Program in partnership with UN university in Japan.
Her curricular and extra-curricular learning opportunities led her to specialize in maternal health, and her passion these days is women's health issues. Just as her parents moved the family from Iran to Canada in response to a lack of academic opportunities for women, she hopes to extend her knowledge to women in other countries.
She also hopes to continue her work abroad, perhaps with an organization like Doctors Without Borders, and she has an online project in the works, currently dubbed globalactivism.ca, through which to write about people working to make their respective communities a better place. In the future, she hopes to get a master's degree in public health so that she can help develop public policy to alleviate the social inequality she has seen both in Canada and abroad. In the meantime, she draws on the powerful stories of her patients to inform a deeper understanding of how the most vulnerable members of society are treated, and what role nursing can play in making a difference.
She is currently working with the National Alliance for Children and Youth to create an agenda for the federal government about issues youth are facing in Canada which include poverty and education.
Despite the early stage of her professional career in nursing, Sara's extraordinary work has already been acknowledged through numerous recognitions. Among these are the Outstanding Youth Award from the Mayor of North Vancouver, a Queen Elizabeth II Diamond Jubilee Medal, the YWCA Vancouver Young Woman of Distinction Award, and  a prestigious fellowship from former British Prime Minister Tony Blair.
She was also been named by the Royal Bank of Canada as one of Canada's Top 25 Immigrants for 2013. It would be no surprise, therefore, that on graduation in May 2013, UBC would name her as one of its graduates "most likely to change the world."
Sara is clearly a force of nature, and the School will be watching her career with admiration and pride.