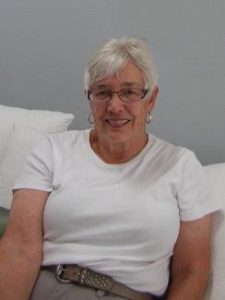 Born in Vancouver in 1936 she attended King Edward High School and graduated from the University of British Columbia School of Nursing in 1959. After graduation and a two-year stint in public health at Maple Ridge Hospital, Ann embarked on a European tour with classmates Barbara McKenzie, Helen Buchanan and Olga Darcovich. Upon returning in 1962, she took a general duty position at Maple Ridge Hospital spending six months in obstetrics and general surgery. During this time she was promoted to head nurse.
In 1964 Ann accompanied classmate, Helen Buchanan, to Hawaii and nursed long-term care patients at Leahi Hospital in Honolulu. That same year she worked briefly in orthopedics at Vancouver General Hospital and then applied to Richmond General Hospital where she accepted the position of assistant director of nursing.
From 1971 to 1972, along with classmate Barbara McKenzie, Ann studied for a master's in nursing at the Colorado School of Nursing, returning to her position as assistant director when the degree was completed.
Ann married Gerald (Gerry) Bonham, a specialist in community medicine, in 1974. In 1979 Gerry moved to Victoria to accept the position of senior assistant deputy minister in the provincial government. Ann joined the long-term care program in the Capital Regional District as a supervisor of the nursing section. In her second year she was promoted to program director. When her husband moved to Calgary as Medical Officer of Health, Ann did contract work for voluntary agencies. In 1982 she was appointed as the medical administrator at the Alberta Children's Hospital in Calgary, thus assuming a demanding position usually occupied by a senior physician. She held this position for seven years taking on an entirely new set of administrative problems such as budget issues and town and gown controversies.
When her husband assumed a position in Toronto in 1989 she retired. They returned to Vancouver in 1991. In retirement she and Gerry committed themselves to traveling as much as possible, managing to include Africa, Australia, Europe (both west and east), South America, Hawaii, Mexico and Cuba as well as much of Canada. They enjoyed many cycling trips in Europe before deciding that cruising was also an option. Every year they also attend the opera seasons in both Vancouver and Victoria.
Written by Ann Day Bonham and Elvi Whittaker, June 2011