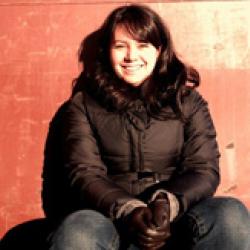 Priscilla Taipale was born in Moosonee, in Northern Ontario, a small town with a population of approximately 2000 people. There is no road and access is only by plane or train. The community – comprised of about 85% native people – is very isolated.
Though educational opportunities were minimal in Moosonee, Priscilla's father was adamant that his daughters be involved in as many academic and learning opportunities as were available. Neither of her parents had graduated high school, but both value a formal education. "In that kind of isolation, you don't have many opportunities and can often get into trouble" says Priscilla. Which is why, when she was 16, her parents sent her to Sudbury to complete her final years of high school.
Going from a school of 300 to one of 1500 students in a much bigger city without her parents was tough, she recalls. "It was a huge culture shock. I felt like I didn't belong and I would call and beg them to let me come home."
No one in her family had a background in health care, but through lifeguarding and learning first aid, her interest was sparked. She enrolled in Laurentian University and completed the undergraduate nursing program there, marking her as the first of her family to obtain a university degree.
Priscilla decided to take her new education to BC. She worked in general surgery, critical care and the ICU at Chilliwack hospital before obtaining a position in cardiac surgery ICU at VGH. "That move shaped the rest of my career" she says. After six years she decided to travel and spent time working in London, England in a cardiac specialty centre – work that would have a huge impact on her master's thesis. Upon return, she entered the UBC MSN program. "When a small grant came up through Vancouver Coastal Health for nursing research," she says, "I knew would be a fantastic opportunity to show other nurses that you can both be involved in patient care and do research." She applied and was awarded the grant ($5000).
Her thesis focus originated from comparing the cardiac care practice here and in the UK. She had noticed big differences in the ways that pain and sedation were administered and wondered about the culture and decision-making processes involved in nurses' medicating practices. She proposed that patients were being given not enough pain medication and too much sedation, contributing to the incidence of delirium. "I looked at post-operative delirium in cardiac surgery patients related to the PRN (a medical term meaning "as the situation arises") administration of analgesia and sedation in cardiac surgery ICU."
"This research really highlights the risk factors for patients who develop delirium and the need for adequate delirium assessments" she says. "This has significant implications for cost, length of stay and prolonged cognitive impairment. Nurses can really look at their own practice to create better outcomes."
As she was finishing her thesis last January, Priscilla realized she wasn't ready to be finished, and that she would apply to the PhD program. She is evolving her work through her dissertation, looking at the way that analgesia is being given to patients and thinking about pain. "Seventy percent of ICU patients have moderate to severe pain" she says. "We've been looking at pain for how long? And we're still not getting it."
Her stance is that the disparities in pain management are not only a knowledge issue but also an issue of attitudes, values and beliefs. She is working with faculty member Tarnia Taverner, who specializes in pain management, to conduct both qualitative and quantitative assessments of pain management at three sites, on the units where nurses are highly involved in the administration of analgesia: palliative care, ICU, and recovery room.
Research has become Priscilla's passion, she says, and was the reason she chose UBC for her graduate studies. She continues to be overwhelmed by the supportive and experienced faculty. "My supervisor, Pam Ratner, has been unbelievable. I didn't really realize what I was getting myself into when I proposed my thesis project. It's become much larger than I ever anticipated, but she's never once let me believe that it was too much or that I couldn't succeed."
While completing her PhD, Priscilla is working part-time in the emergency department at VGH. She has just received a Four Year Doctoral Fellowship from UBC. The fellowship, which is based on academic excellence and awarded upon the recommendation by the graduate program, will provide Priscilla with funding to cover both the costs of her tuition and that of her research.
She is very grateful for the support she has received, especially from her father. "He has always encouraged me to work hard and made sure that I realized – no matter where I grew up, or the opportunities that I thought I did or didn't have – that hard work and dedication eventually lead to success."
"I've been really fortunate" she says. "It's funny when you don't really plan for things how they all just fall into place."