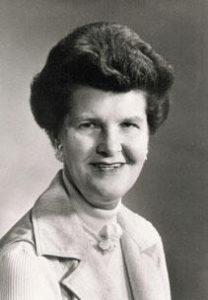 Beth McCann graduated from the UBC Nursing Program in 1940. She became a faculty member in 1947 and remained on faculty until she retired in 1982. She was acting director of the Nursing Program from 1967 to 1971. Beth's association with Nursing as a student, faculty member, acting director and then senior professor and professor emerita, spanned more than half a century. During those years, Beth saw and participated in numerous changes with unfailing enthusiasm and enduring optimism. Few students, colleagues, friends or acquaintances can remember her without smiling and appreciating her friendliness and her devotion to nursing education.
She was born in Ioco, BC on February 9, 1917, where her parents had moved from Petrolia, Ontario. In 1933, the family moved into Vancouver and at age 16, Beth registered in a double degree program at UBC because she was too young to enter the nursing program directly. During the seven years of the double degree program Beth received a Bachelor of Arts Degree and a Bachelor of Applied Science (Nursing). Following graduation with her Nursing degree in 1940, she became an instructor at the School of Nursing at the Royal Columbian Hospital in New Westminster until 1943, and then taught at VGH for one year. She was recruited into the expanding faculty at UBC and was the first nursing instructor to work both on and off campus with UBC's nursing students while they were at VGH. During this time, she helped organize a wide field of experience for the students and spent a four-month summer term as a W.K. Kellogg Scholar studying nursing education at the University of Washington.
Beth enrolled in the Master of Science in Nursing at Wayne State University as a W.K. Kellogg fellow and returned to UBC as an assistant professor in 1953. She received her master's degree in 1959 and was promoted to associate professor. She was very active with local, provincial and national nursing professional associations throughout her career, including the RNABC and the Conference of Canadian University Schools of Nursing, (later named the Canadian Association of University Schools of Nursing). She also helped form the Nurse Administrator's Association of BC.
Beth was acting director of the Nursing Program from 1967 to 1971. She was a senior professor for ten years more after handing over directorship to Muriel Uprichard. Two of her main teaching areas included history of nursing and nursing administration; these she taught to all levels of the program and left an indelible impression on all nursing students who attended the school. She served on the Dean of Women's Committee for Women's Year in 1975 and was an elected member of the executive of the Faculty of Graduate Studies from 1976 until 1977.
Upon retirement in 1982, after 35 years on faculty, she said that her greatest commitments had been to patients and students. "I am a nurse first, and a teacher as a close second," she said in an interview about her retirement. "I wouldn't do anything else if I had it to do over again."
At the time of her retirement, the Nursing Division of the UBC Alumni established a fund in her honour, which became the Beth McCann Memorial Scholarship following her death. Two scholarships from this fund are given annually to undergraduate students who demonstrate a commitment to the nursing profession and a contribution to the university or community. As well, a fund for the Beth McCann Chair for Nursing Research Fund was initiated by the class of 1960 as a start to raising the necessary $1 million endowment needed to establish a Chair. Both of these awards were started during her lifetime as a tribute to her many contributions. (Marion Clauson, Senior Instructor, is the current holder of the Beth McCann Scholar Award).
Beth died on January 13, 1986. Among her many honours were the Registered Nurses Association of BC's Award of Excellence in Nursing Education, given posthumously at the RNABC's annual meeting in 1986.
Excerpts from Legacy: History of Nursing Education at the University of British Columbia 1919-1994,1994, Glennis Zilm and Ethel Warbinek, Chapter 5).