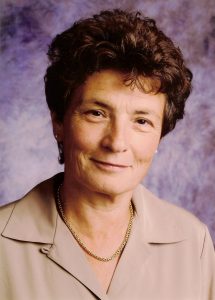 Mary Adlersberg (MSN '77) was born in Krakow, Poland, a child of traumatized Holocaust survivors, arriving in Montreal at age six, following a year in Israel and another year in England awaiting permission to land as refugees. She was a 1969 RN diploma graduate of the Jewish General Hospital School of Nursing and completed her BSN at the University of Ottawa before moving to British Columbia to take up a position as a staff nurse and later acting head nurse in the Psychiatric Unit of the new UBC Health Sciences Centre Hospital in 1972.
Fearing that she was headed for a life of crime, her boss and mentor Professor Helen Gemeroy (1912-1997) strongly recommended further education, and Mary was admitted into the MSN program at the UBC School of Nursing. On graduation in 1977, she held a faculty position at UBC for three years, then returned to nursing practice as Nursing Care Manager at the UBC Extended Care Hospital and later as a Community Mental Health Practitioner at the Strathcona Care Team in Vancouver's Downtown Eastside.
In 1991, Mary joined the staff of the Registered Nurses Association of BC (later College of Registered Nurses of BC) as a Nursing Practice Consultant, where she remained until her retirement in April of 2008. Throughout those 17 years as a practice consultant, she thoroughly enjoyed applying her unique and creative approach to helping solve the complex practice problems confronted by nurses across a wide range of clinical settings and working with nurses to bring a nursing vision of better health service delivery to fruition. A tireless advocate for nurses, Mary was fearless about entering into the fray of the most difficult health care issues and nursing workplace dynamics, working with administrators, unions, interprofessional team members, colleagues, and nurses themselves to wrestle with the inherent complexities of nursing within an evolving ethical, legal and regulatory climate. Some of the policy documents she developed in that role are available on PubMed. She also regularly accepted invitations to guest-lecture in the School on topics related to the enactment of professional nursing in real-life contexts. Her work was characterized by tenacity, a unique angle of vision on most problems, and a passionate enthusiasm for the profession of nursing and the remarkable human beings who practice it.
Among the many initiatives Mary led on behalf of the nursing professional association over those years, was the creation of a regulatory context within which supporting safe injection could be deemed a legal form of professional nursing practice. This work set the foundation for the creation in 2003 of Insite in Vancouver's Downtown Eastside, which was North America's first legal supervised injection site at the time and remains a model of practice to this day. In these video clips created by the National Film Board as teaching resources to accompany the 2007 documentary "Bevel Up", Mary and colleagues, including UBC Nursing professor Paddy Rodney, reflect on the legal, ethical and professional basis of this innovative form of nursing practice. Reflections on Practice: Ethics in Practice &  Supervised Injection. Mary was also actively involved in the development of what became familiar to us as "harm reduction nursing," in recognition that persons who used drugs were particularly susceptible to HIV infection and other conditions that could be prevented through trauma-informed policies and practices, as described in this Canadian Nurse article by nurses at Vancouver's Dr Peter Centre.
Following retirement, Mary has continued to create her unique brand of trouble within a wide range of community activities and interests and remains a strong champion of the profession.
Some of her creative contributions as a second-generation survivor are housed in the Vancouver Holocaust Education Centre.