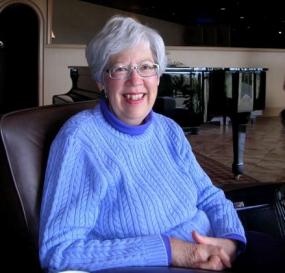 Born in Vancouver in 1936 Barbara Mackenzie attended West Vancouver High School. She recalls always wanting to be a nurse; she had read all the Cherry Ames and Sue Barton nurse books as a young girl. This choice was somewhat against the wishes of her parents and thus she enrolled at the University of British Columbia in the Faculty of Home Economics. Being very unhappy in that program, she switched to the degree program in Nursing in the same class as long-time friends from elementary and high school: Beth Andrews and Ann Steele, and also Alixe Loree who was a long-time family friend.
After graduation in 1959, Barbara became a public health nurse at the North Shore Health Unit, planning to travel in the near future. In 1961 she joined classmates Ann Day, Ollie Darcovich and Helen Buchanan in exploring the British Isles and Europe for six months. Upon her return she worked for the Vancouver Health Department, again as a district nurse, for a further three years.
In 1965, following a case of mumps, Barbara developed viral myocarditis and was on sick leave for eight months. From 1966 to 1971 she worked as a school nurse in several schools for children with handicapping conditions, and also at Vancouver General Hospital on a program for children and babies with profound hearing loss.
From 1971 to 1972 Barbara, with the support of a Federal Health Training Grant, worked towards a Master of Science in Nursing at the Medical Center, University of Colorado in Denver. She and classmate Ann Day studied together in Denver. Here she had the opportunity to work with Loretta Ford, the nurse founder of the Pediatric Nurse Practitioner Program.
On her return to Vancouver Barbara fulfilled the requirements of the grant for two years, working again for the Vancouver Health Department as a family nursing specialist. This entailed working with families who had children with very special health care needs and also acting as a resource person for nurses throughout the Health Department.
From 1975 to 1977 she assumed the position of Associate Coordinator of Nursing at one of Vancouver Health Department's units located on the Downtown Eastside. During this time she also carried a case load of families with children who had very special needs in order to maintain her skills in nursing practice. The following year, 1977-1978, Barbara was named Acting Coordinator for the new long-term care program, which Victoria had just initiated, and was the nurse in charge of overseeing the program developed in Vancouver. In 1978 she returned to her position as Associate Coordinator but shortly afterwards accepted a position as nurse coordinator of a different health unit where she remained until 1980.
In 1982, unhappy with the nursing leadership of the Health Department, Barbara moved to Children's Hospital and developed a role as a clinic nurse specialist on the cranio-facial team. This position came to offer her great nursing satisfaction working with babies and children, their families, ward staff, and nurses in the community throughout the province of British Columbia. It became the highlight of her career and she remained in this position until her retirement in 1993.
The story does not end here. In 2001 Barbara married Vivian (Viv) Baker, a psychiatrist, and inherited a new family and grandchildren. In 2002 they moved to their waterfront home in Parksville on Vancouver Island. Barbara and Viv have enjoyed many wonderful trips although their favourite is always returning to England where for many younger years they enjoyed backpacking in the countryside. Barbara has done volunteer work with Wildlife Rescue and various other organizations and is currently a member of the Canadian Federation of University Women in Parksville Qualicum.
Prepared by Barbara Baker and Elvi Whittaker