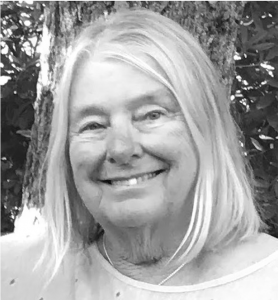 Jane Cameron, age 83, died peacefully on January 26, 2023, at Vancouver General Hospital, surrounded by her loved ones after a short battle with cancer.
Born in Toronto on August 11, 1939, to Grace and Newton Schell, Jane spent her childhood summers swimming at the family cottage and winters studying piano at the Royal Conservatory of Music. She entered the nursing program at UBC when she was 17,* earning a Bachelor of Science and a certificate in public health nursing. She married Terry Stokes in 1961, and they moved to Powell River in 1967 with their three young children. While there, she added federal government nursing with remote First Nations communities to her provincial work in remote logging camps and her nursing in the local community.
In the 1970s, Jane acquired a commercial pilot licence and a part-time job flying out of Powell Lake. She revisited remote places delivering various necessities city dwellers take for granted, while some occasionally wondered if Jane would make it, given the bad weather. Then, who knew that during federal elections it was Nurse Jane flying in with the ballot boxes!
She married Patrick Brabazon in 1992, continuing in public health in the Gulf Islands. Always a bit out of the norm, she provided flu shots from the bridge of a ferry while the captain summoned the crew. The two retired to Powell River in 1997.
Jane had an epic garden and was a fantastic cook. She loved hosting family and friends to dinners harvested from her backyard. When not gardening, cooking, canning or playing Chopin, "Nurse Jane Fuzzy Wuzzy" volunteered in Powell River and Guatemala, where she also studied Spanish. In recent years her passion for balanced forestry led to her chairing the Stillwater Community Advisory Group. Her work there led to an appointment to a national technical committee on sustainable forestry.
Jane is survived by husband, Patrick; sister Margaret (Jerry); brother Peter (Linda); three children Rob (Fay), Kim (Arthur) and Tobin (Jude); six grandchildren and five great-grandchildren. A celebration of life will be planned.
Heartfelt thanks to doctors Morwood and May, Family Tree Health and caregivers at BC Cancer and VGH. In lieu of flowers, please consider donating to the BC Cancer Foundation.
This story was originally printed in the Powell River Peak
* Jane didn't quite enter the program at 17. As her husband Patrick has noted: "Jane graduated high school in Edmonton and came straight to UBC to follow in her mother's PHN footsteps. Of course, in Alberta grade 12 was the equivalent of our senior matriculation so she was academically qualified but too young for the School of Nursing. She got to take an entire year of electives to run out the clock and be accepted for nursing. But that's a story in itself."