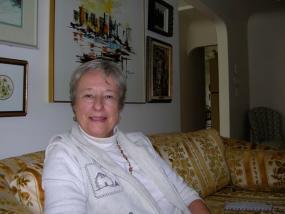 Born in 1937 in Dawson Creek, British Columbia, Reta Aspol attended South Peace Secondary School there. She spent grades 11 and 12 in Edmonton at Garneau High School. After high school she had planned to spend her first year studying sciences at the University of Alberta, but instead enrolled in the University of British Columbia School of Nursing, graduating in 1959. After returning from a European vacation with classmate Sheila MacDonald, she worked in private duty nursing and at the North Vancouver General Hospital, the predecessor to the present Lions' Gate Hospital.
Reta was very enthusiastic about nursing and hoped to be a nurse in the north, but the plan was changed when she married Herb Herunter in 1961. She spent the next year working for the Vancouver Health District as a public health nurse in a project to identify tuberculosis among the population of Abbott Street on Skid Row. Preferring traditional nursing, she was not happy doing this work and she joined her husband in the dry cleaning business, taking on the responsibility for the accounting for the business.
In 1962 Herb Junior was born and in 1965 Tony. By this time the Herunters had sold the dry cleaning business and were involved in buying and renovating old houses and renting them out. Reta turned to property management. In 1980 they took over the management of Herb's family business of a mobile home park with a hundred units in Edmonton. They sold these concerns in 2007. However they continued to deal in real estate, and in buying and selling houses.
In 1975 Reta volunteered with Planned Parenthood and worked in its clinics. When the opportunity arose to speak in school classes she did so enthusiastically, explaining briefly the controls and the anatomy but stressing confidence, responsibility and the maintenance of health.
Since 1980 they have owned a small cabin in Whistler, which they renovated, and since the boys were young they had kept a houseboat at Fisherman's Cove Marina in West Vancouver. In 1991 they purchased a condominium at Kihei, Maui and later a small house in Sun City, Palm Desert. They enjoy holidaying in these areas as often as possible. They have also travelled extensively, mostly by cruising.
Prepared by Reta Herunter and Elvi Whittaker