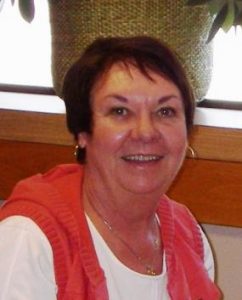 Barbara Ann Joyce Hunt was born in 1945 in Elk Point Alberta, the last of five children of Orlin and Agnes Hunt, and the youngest by a full eight years. Barbara recalled her childhood as "idyllic," and fondly reflected on the parade of cats, dogs and horses as well as the pet deer and badger. At the age of 14, she moved from Frog Lake to Edmonton to live with her sister Jean and finish high school. She next went to the University of Alberta to obtain her baccalaureate degree in nursing, and later did her Masters in Nursing at UBC. From From there she move back to Alberta, practicing in the field of quality assurance, and going on to develop several international nursing theory conferences before spending many years in public health. Barbara retired for the first time in 2001, moving to Richmond BC. It wasn't long before she was working again, first at the North Shore and then at UBC, where she assumed the key role of Program Coordinator for the newly formed nurse practitioner program. She retired for a fourth and final time in 2010, one week after her beloved husband Brian's death. They had celebrated their 40th anniversary just 7 months prior.
Barbara's daughter Janice remembers her as having a "calling" to the profession and always wanting to be a nurse. At the School of Nursing, her colleagues remember a positive, creative, and energetic colleague, applying her expertise to the management of the incredibly complex process of the many issues that had to be worked through in the early years of the NP program, keeping up the spirits of the hard working NP team, working out the dynamics of coordinating the practice OSCE exam sessions, and also (in her spare time) getting involved with the various IT innovations that allowed the School to be a leader in tracking the clinical learning elements that had to be documented and approved in order for the students to meet the evolving practice regulation requirements. Barbara was a vibrant and positive member of the entire School community, centrestage in every celebration, dynamic in her ideas, supportive toher colleagues, and a rock of encouragement to the students.
In 2014 began to experience ill health and was ultimately diagnosed with ovarian cancer. Despite several near death experiences related to treatment complications, she kept bouncing back and enjoyed many periods of relatively good health. In March of 2017, she was hospitalized with pneumonia, but once again made a great recovery. In July, she moved in with her daughter Janice and family. Two weeks later, she felt a little nauseous and went to sit in her comfortable chair by the bay window. Within a minute, she fell unconscious and passed. Although this was an unexpected ending given her absolute ability to power through, the family was grateful that she was at home among loved ones and didn't suffer. It was what she would have wanted.
Barbara leaves a profound legacy to her family and to the UBC School of Nursing community. We celebrate her life, and will miss the wonderful spirit she brought to her profession and her life.
Adapted from eulogy notes provided by her daughter Janice to Anne Earthy.
Please read her In Memorium story.