Born and raised in the City of North Vancouver, Linda graduated with honours from the BSN program at UBC in 1992 and went on to have a stellar career in public health nursing.  Her public health career has included a wide range of activities such as working in schools and community clinics, providing preventative nursing services to the Squamish Nation, being a Program Coordinator for children, youth and families, and leading a North Shore Physicians Immunization Project for Vancouver Coastal Health. As Linda expressed it, "You have to go where the people are, not ask them to come to you."
Linda was the co-creator the Ridgeway Heritage Committee and is proud of their success in having Ridgeway Elementary School, one of the most significant heritage buildings in North Vancouver, restored. Following that success, in 2008 Linda  decided to take her community advocacy one step further and ran for the Board of Education in her home of North Vancouver where she played a leadership role in the revitalization of the City's schools. "As a nurse, we spend a lot of time assessing individuals, communities, and systems, so it really was a natural fit," she admitted.
Over two terms as city councilor in North Vancouver, Linda used her knowledge of public health to campaign around issues not typically prioritized in all-male councils, one of which was children's health and mobility. She also has proposed and enacted a range of policies designed to encourage a healthier city. Among the many initiatives in which she played a leadership role as councilor were the development of the city's Child, Youth and Family-Friendly Charter and the creation of the city's Dementia Friendly Plan. Both of these documents recognize that the services and programs the city supports, and its built form, have huge impacts on the capacity of children, youth, families, and some seniors to be fully included in the community. As Linda expressed it, "We need to keep working together, to find those creative solutions, to ensure that we have a place that youth, families and seniors can call home. The stakes are too high not to keep trying."
Dr. Elizabeth Saewyc, Professor and now Director of the UBC School of Nursing has these memories of Linda in her public health role.
I first met Linda Buchanan as part of the fabulous North Shore Child and Youth public health nurse team back in 2011, when they approached me for some inservice training around working with vulnerable adolescents; I gave a few presentations, mostly drawing on the Minnesota PHN Wheel of Interventions model that we had been teaching at UBC for 5 years by then, giving them specific examples of how those interventions could be applied to PHN work with adolescents. They were in the process of re-organizing in their unit, so I supported them with some of their planning and the research evidence to back up their ideas. The group was really excited by the Wheel as a model that made their work more visible, and they wanted to figure out a way to track what they were doing, to help inform leadership. At the time, Linda was their team lead, and with the approval of their manager, I worked with them to help create a tracking tool that was based on the 17 interventions in the wheel, and together we spent 3 years tracking their interventions and practice, including how many people they interacted with, refining the tracking tool. Three times a year we'd come together and I'd provide both individual reports for the nurses and a group report for the team, and we'd talk about what they were doing, what insights they drew from seeing their work captured and summarized. Some of the nurses felt the data collection was a lot of extra work, although it was totally voluntary. Linda was one of the nurses who was keen, and felt our work could be used to advocate for PHN practice, especially school nursing, which they felt was being squeezed out of existence at the time, so she encouraged some of the others to keep participating in the data collection. When I brought the results back to folks, she was one of the team who helped the others see how this could be shared with managers and other nursing units. She and Sue Foster were staunch champions of the work together, and several others among the nurses were also enthusiastic partners.

The work we did was eventually taken up as evidence to adopt the Wheel of Interventions model, with some suitable Canadian adaptations, for the whole VCH region, although our tracking tool was only suggested for use with new PHNs, to help orient them to practice and provide the self-reflection of how they were working to scope.

During that time Linda also was a city councillor, and brought her public health nursing practice skills to the role, as well as bringing her knowledge of the city's concerns and priorities around the community's health to the PHN team. As a city councillor, Linda reached out a few different times to ask me for research and expert opinions when city issues came up that were related to my areas of expertise (around sexual exploitation of youth, fostering resilience, LGBTQ youth health) and then shared back how the information was taken up in council, or communicated with agencies such as the police, or in organizing evening events for parents.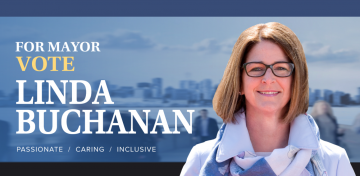 In the fall of 2018, Linda took that passion for a healthier city even further into public dialogue in the context of a lively civic election campaign. As she said, "My vision for the city is captured by the theme of my campaign–passionate, caring, inclusive. I certainly want people to be proud of and engaged in their city–to be passionate about it. I also want a city that is caring and inclusive." While housing affordability was a top concern for many voters, Linda's message kept returning to public health priorities. She referenced her commitment, as a woman, a mother and a nurse in her messaged, "I care deeply about children and their development: poverty, the impact of violence, ageing in place and creating a city that is welcoming and inclusive for all. We need to have a deeper understanding of the people who live in our city and the circumstances that impact their lives."  As Linda argued, "We may never find a perfect solution, but we need a culture in the city that is about always looking for innovative ways to help youth, seniors and families remain part of our community." As she explained, "that means dealing with emerging issues like social inclusion–finding ways to foster a sense of connection and community, through programs, through built form and a vibrant urban culture."
As the testimonials posted during her mayoral campaign attest, Linda has been a powerful and positive presence in her community, both personally and professionally.
Our family has known Linda for close to 25 years as a friend of the community and an advocate for our community, the Squamish Nation. Linda is a strong proponent for healthy living within the Indigenous community. We remember her fondly as a community health nurse whether it be at the Eslha7an Learning Centre to support youth, adults, and elders in programming to enhance their daily living habits towards a better life or at the Mother Bear Program providing family support to new mothers and infants.  As a school trustee, I was able to witness Linda's strength as a leader and appreciate the decision making skills she possesses. As a leader she is open, takes the time to listen and understand and knows that regardless of what decision needs to be made it has to be done in a thoughtful process. Linda has the ability to interact and communicate with community members of all ages and does not shy away from conversations or challenges that she may face.
                     Brad Baker, Squamish Nation https://www.lindabuchananformayor.com/
On October 20, 2018, Linda was elected as Mayor. As Linda says, "I am extremely proud to be a nurse and now a Mayor. My vision for my City is to create 'A Healthy City for All.'" In fact, her goal is to make the City of North Vancouver the healthiest small city in the world. "It may be a stretch goal" she says, "but one I am willing to pursue. And I will definitely be using my knowledge, skills and abilities as a public health nurse." Most recently, on November 16th, 2018, she was elected Vice Chair of the Metro Vancouver Board. So her influence on our region continues to expand.
From all she has observed during her collaborations over the years, Elizabeth Saewyc sees Linda's vision for the city is a continuation of her lifelong commitment to public health nursing.
Linda has been great at bringing diverse groups together to work on issues. She pays close attention to the social determinants of health that are so important to the well-being of communities, and fundamental to the public health nursing role. In many ways, as a City Councillor, she was enacting key public health nursing interventions (community organizing, coalition building, collaboration, policy development, advocacy). I know that her deep knowledge of North Vancouver's diverse communities, the relationships she has built with various organizations from her years of public health nursing practice, and her evidence-informed approach to public policy, have all made her an excellent and responsive member of the City Council. These skills will stand her in good stead as Mayor, too. I am proud to have worked with her over the past several years, and looking forward to seeing how this amazing alum from our School will lead North Vancouver.
The UBC School of Nursing is thrilled to have an alum such as Linda showing the way forward in taking public health, public policy and advocacy for those most in need to such a high level. What a mentor for the next generation of our graduates!