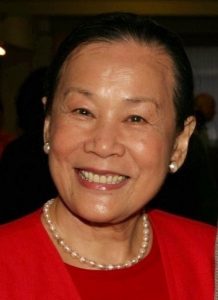 Pauline Lee was born in Hong Kong in 1934. During WWII, her father became ill and passed away. As her mother had to work to support the family, Pauline was left to look after her two younger sisters and little brother. She was nine then, and remembers having to stand on a stool to wash the dishes. After the war, Pauline was sent to a Catholic school where she learned the value of compassionate and loving care. Influenced by these experiences and a desire to provide compassionate care to others, Pauline decided to become a nurse. She began her nursing career in Hong Kong, obtaining an RN and becoming a registered midwife at the Hong Kong Government General Hospital.
In 1962, Pauline moved to Vancouver. She started working in acute care nursing almost as soon as she arrived at VGH and continued for some six years. Pauline attended UBC and was a diploma graduate in Public Health Nursing in 1970. She then worked for the VON (Victorian Order of Nurses) in home care nursing for six years and loved it. "But it was not easy working full-time and being a mother of a young boy and there was no such thing as part-time", Pauline remembers.
In 1976, Pauline was transferred to the Vancouver Health Department as a community health nurse. She later served as a continuing care hospital liaison nurse for 21 years, working at various institutions: Shaughnessy Hospital, St Vincent's Hospital, G.F. Strong Rehabilitation Centre, BC Women's Hospital, with the last four years at Mount Saint Joseph and Holy Family Hospitals. As a hospital liaison, Pauline coordinated discharge planning and follow-up care from hospitals, providing a link between acute care and the community. With her ability to speak Chinese, mostly Cantonese and some Mandarin, she was a true resource to the Chinese community to help raise public health awareness in the community. After 28 years of service with the VHD and Vancouver Health Board, Pauline retired, in part due to a recurrent herniated disc.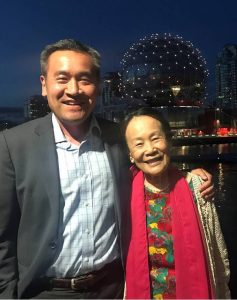 Pauline has been engaged in ongoing learning throughout her career and has an active community life as well. She has always wanted to make a contribution to the community at large and to that end, she has volunteered much of her time to various public health initiatives such as Seniors Health and Wellness Promotion and Illness Prevention. From 1995 to 2002, she also served as a seniors' advisor on the Community Health Board and as a member of the Community Health Advisory Committee and the BC Cancer Agency Board. She is a lifetime member of SUCCESS and has shared her health and organizational expertise at the organization's health fairs and in social service programs.
Pauline continues to be active, wanting to do "meaningful and positive things in her life". She sings with the Vancouver Chinese Choir and has done so for 30 years. The Choir's mission is to contribute to the Canadian multicultural mosaic. They do this by performing at care homes, hospitals and community cultural events and at fundraising concerts for the BC Cancer Society, Children's Hospital, for flood and earthquake relief and other charities.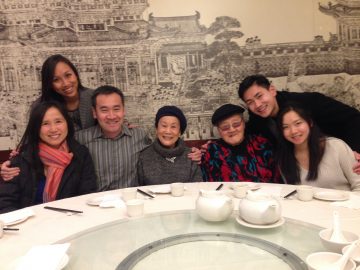 Pauline continues to live an active life. She swims several times a week and remains physically and intellectually active. She still sings every Sunday in her church choir. She was the primary caregiver to her husband Luke (also a stalwart "Friend of the School of Nursing") who lost his battle with Non-Hodgkins Lymphoma after a 4th relapse over nine years on July 29th 2016 at the age of 86. She has one son (Michael Lee, currently the MLA for Vancouver-Langara and Attorney-General Critic), a lovely daughter-in-law and three wonderful grandchildren. Her two older grandchildren are now working, and her youngest granddaughter is a third year student at UBC in a dual degree program for a BA in Art History and a Masters of Management at Sauder. The family is pictured here in December 2015, before Luke's final illness.
Pauline is "extremely honoured" to be an alumnus of the School of Nursing, "UBC gave me a new beginning when I came to Canada. I loved my nursing career and I feel that I have a lucky star. I've been blessed for all I have done and I am truly appreciative of my life in Vancouver."