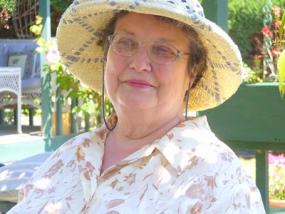 Ann was a graduate of the UBC School of Nursing class of 1959. Copie, as she was known to her classmates and close friends, was born in Vancouver in 1935, attended St. Margaret's School in Victoria and graduated in 1953 as Head Girl for the school. Following graduation and prior to entering UBC, Copie worked at Montague Bridgeman Antiques where she learned about collecting Asian blue and white ceramics, hallmarked silverware, and other specialty ceramic pieces. This interest in Asian art and in antiques became a lifelong interest and, by some local collectors, Copie was seen as an expert.
Her first position after graduation was in Montreal with the Victorian Order of Nurses. She spoke of home visits to old Montreal homes with their icy steps in winter being a challenge to carry her VON bag and baby scales. She did have some hospital psychiatric nursing and private duty nursing in Montreal prior to returning to Victoria about 1967, but her VON nursing was more often talked about in her reminiscences. Her connection to Montreal came from her mother who grew up there and graduated from the Royal Victoria Hospital in Montreal which could have influenced Copie to choose nursing as a career. Her mother's cape and certificate were given to the Canadian Nurses Foundation in Ottawa in June 2009. Copie also had great pride in her father's position as chief engineer in charge of bridge construction for the Province. Of particular importance to her was the bridge replacement in 1958 at Taylor, a project which utilized all of her father's engineering expertise. His design drawings and expense reports for that bridge, she gave to the BC Archives in May 2009 (John Utting Copeman 1900-1962).
Following her initial years working in Montreal, Copie returned to Victoria and was a public health nurse with the Saanich Health unit, a division of the Capital Regional Health Department until she retired. She recalled that work experience as one of a social worker more than one of public health nursing. Part of her district included the First Nations' families living on the Saanich Peninsula. She lived with her mother in the family home where she pursued her passions of gardening specializing in dahlias, antique collecting, genealogy and involvement with the local Conservative Association. This remained home for Copie until 2009. Another highlight for Copie was the appointment of her uncle, Major-General George R. Pearkes as the twentieth Lt. Governor of BC from 1960-1968. This appointment followed his distinguished service to Canada in the army and as Minister of Defence in the Diefenbaker government. Copie enjoyed attending the formal events such as the installation ball and other official occasions which created an opportunity to meet royalty and foreign dignitaries and a requirement for specially made gowns. These dresses were part of her wardrobe to her life's end.
In 1979 she married Walter George Donnington Hungerford. A year after her marriage Copie resigned from her Public Health position. When she spoke of that work experience, it had considerable frustrations for her… the caseload, the drive to the district, her supervisor's demands. With Don having retired from the military followed by government service in the finance department, Copie was able to continue with her interests in family ancestry, provincial and political history related to the Copeman and Hungerford families. Don enjoyed these pursuits with Copie and they travelled in their early married years researching family ancestry until Don's health declined in the late 1990s. Copie was the consummate advocate for Don in securing his rightful DVA benefits. Copie took pride in her cooking, canning and sewing. She made her "chapeaux" to wear while receiving her cancer treatment.
At the end, she reflected on residence life, our last year at UBC, the fun times, and the class reunions as important remembrances. Copie had a sense of humour. In fact, when visiting a British heritage building she found a postcard of a Lady Jane Geddes throwing a chair in the Council chamber to make a point about some injustice. She gave it to her classmate of the same name, convinced that it was a family relative from the 17th century!
Copie died of ovarian cancer on July 5, 2009
Written by Ann Geddes
HUNGERFORD – Edith Ann Montgomery BScN, (nee Copeman) aka "Copie"

Ann was born on May 8, 1935, in Vancouver and passed away peacefully on July 5, 2009, in the Royal Jubilee Hospital. She was predeceased by her husband, Walter George Donnington Hungerford and is survived by her stepchildren, Patrick, Guy, Roderick and Priscilla Hungerford; her Aunt, Pat Goff; cousins, John Pearkes, Barry Goff, Gillian Crabtree, Carol and Anna Wootton and many long time friends. Her uncle, George Pearkes was the 20th Lieutenant-Governer of B.C. and she had a keen interest in the history of the province. She graduated from St. Margaret's School in 1953, obtained her RN at the Vancouver General Hospital in 1958 and a BScN at UBC in 1959. Her nursing career was varied and included psychiatric and private nursing, social work as a district public health nurse and Saanich social worker at Indian Reserves. Her life included a wide range of experiences from mixing with royalty to nursing in the slums of Montreal. She was deeply involved with politics and was a lifelong Conservative. She had a great love for flowers and specialized in growing dahlias. A memorial service will be held in Victoria at Christ Church Cathedral on Friday, July 24, 2009, at 12 noon followed by a reception at the Union Club at 1:30 p.m. In lieu of flowers, donations to B.C. Cancer Research or Victoria Epilepsy and Parkinson's Centre for Parkinson research will be greatly appreciated. Condolences may be offered to the family at www.mccallbros.com

McCall's of Victoria, BC [phone number]
handwriting: July 18/09