Sheila MacDonald was born in 1936 at Hafford, near Blaine Lake, in Saskatchewan. She grew up in Victoria, attended Sir James Douglas, Oak Bay High School and St. Margaret's School graduating in 1953. During her high school years she studied ballet, played tennis, was an equestrian, skied, and spent summers at the family cabin at Yellow Point on Vancouver Island. She spent a year at the University of Victoria and thereafter attended the University of British Columbia, enrolling in the 1959 class of the School of Nursing. She had happy memories of sharing a large apartment in Somerset Manor close to campus with classmates Ann Copeman, Ollie Darcovich, Irene Westwick and Marg Woolley during her final year at UBC. To celebrate graduation she and classmate, Rita Aspol, embarked on a six-month long tour of Europe.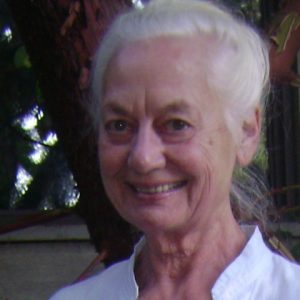 On returning to Vancouver in January 1960, she taught nursing at Riverview Essondale Hospital and took the resident's course in psychiatry at the Vancouver General Hospital. Sheila and Ollie Darcovich were appointed to positions at this mental health facility. Their UBC background in psychiatric nursing served them well, and they acted as instructors to other psychiatric nurses and to students from hospital schools of nursing. They lived in the residence and later moved to share an apartment in Vancouver.
From 1962-3 Sheila served as the Director of Nursing at the Burnaby Mental Health Clinic and taught public health nurses to provide group therapy and health care for children and adults.
During this period she also substituted for Margaret Neylan as an instructor in psychiatric nursing at the UBC School of Nursing.
In 1966 she married Stephen Slinn, a consulting engineer, whom she met when they were both teaching at UBC. Daughter Sara was born in 1969 and Mary in 1974, and Sheila became a full time mother for several years. During this time she joined Stephen in his love of sailing in their boat, Niamh.
Sheila made a professional shift in 1980, taking a real estate course at UBC. She joined Royal Le Page, first working in home sales on the North Shore and later she found it interesting to sell both commercial and residential real estate.
Upon retirement in 1991 Sheila had time to devote to some of her many interests – sailing, tennis, bridge, gardening, traveling, spending time with her family, and at the cabin in Yellow Point. Sheila passed away in July 2017 during a family visit to her beloved cabin. In addition to a memorial for friends and family, Sheila was remembered at an event organized and attended by many of her classmates.
Sheila Slinn, Sara Slinn and Elvi Whittaker, January 2019