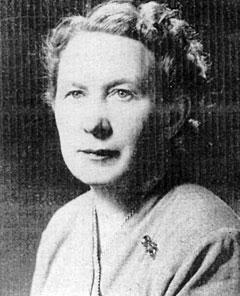 Esther Irene Paulson was born in New Westminster, BC in 1906. She graduated in 1928 from the Royal Columbian Hospital School of Nursing. Her first position was as a staff nurse in the Tuberculosis building, Royal Columbian Hospital and later ward supervisor. In 1930 she earned a post-graduate certificate in obstetrical nursing from the Royal Victoria Hospital in Montreal and in 1934, a diploma in public health nursing from the University of British Columbia.
In 1935, she was appointed to the Welfare Field Service, which combined services of Public Health Nursing and Social Welfare. In 1940, Esther joined the Vancouver Metropolitan Health Committee and in 1943 was appointed Director of Nursing for the Vancouver Hospital and Chest Clinic. In 1944, she was appointed Provincial Director of Nursing for the Division of TB control, overseeing nursing care for patients in Vancouver, Victoria and Tranquille. Thus began her memorable career in the field of TB nursing that was to continue until she retired in 1966.
When Pearson a new TB hospital opened in 1952, she was appointed Director of Nursing while continuing to act as Nursing Consultant for the Division of TB control.
Esther was involved in professional nursing throughout her career. She was an active member of the RNABC, holding offices of secretary, Vice President and President from 1951-1957. From 1960-62 she was the Chairman, Nursing Section, Canadian Tuberculosis and Respiratory Association (Canadian Lung Association). In recognition of her management in TB nursing in Canada, she received the Centennial Medal and Honorary Life Membership in the Canadian Lung Association.
Esther was a noteworthy writer. She published articles on TB nursing, poliomyelitis and nursing issues. During her retirement she continued to write historical articles, such as the History of the Royal Columbian Hospital School of Nursing and biographies on many prominent BC Nurses. One cannot talk about Esther without mentioning her incredible memory and her ability to recall accurately names and events long forgotten by most of us. This was an exceptional gift.
Esther Paulson was an honorary member of the BC History of Nursing Group. She died on January 2, 2004 after a brief illness. Provided by the B.C. History of Nursing Society