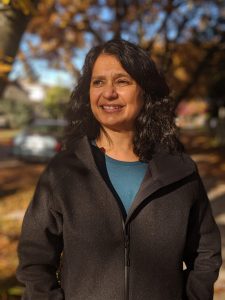 Radhika grew up in Fiji and came to Canada in 1977, where she started Grade 11 as both an immigrant and the daughter of a single mom. Radhika always knew that she wanted to pursue post-secondary education, but she didn't know exactly what she wanted to study. In Grade 12, Radhika found herself interested in health care, however she was still unsure of what area of health care specifically she wanted to pursue.
Before attending the UBC School of Nursing, Radhika completed 2 years of college. This was a good option for her for two reasons.  One, it allowed her a bit more time to decide which direction she wanted to go, and two, it was financially more feasible.  Radhika considered Pharmacy for a time, but she knew that she was a real people person, so she kept searching for the right fit for her.
Without coming to Canada, Radhika may never have considered nursing at all. In Fiji, the status and value of nurses was unfortunately low. However, she saw that nursing in Canada was a much-respected profession, and this was an important consideration in her decision to pursue this field.  In addition, significant health challenges for both her parents resulted in her exposure to the health care system, greatly impacting her choice of a career in nursing.
In 1981 Radhika applied to the UBC School of Nursing. She didn't consider the diploma route as she felt a baccalaureate degree would provide her with more options after graduation.  Radhika has also completed 2 years at Douglas College and was able to transfer credits toward her BSN. She remembered Betty Davies – the BSN admission's advisor – as being very kind and helpful in navigating her entry into the School of Nursing.
For Radhika, nursing school memories included the IRC, the libraries and being in clinical.  A lot of research was done by hard copy having graduated from microfiche. The students started out with residential care for their first clinical exposure. Radhika liked how the science requirements, the social science electives and clinical were all intermixed throughout the program. She enjoyed the exposure to different subjects, such as zoology, taught by Mary (an actual biologist). Radhika remembers coming to UBC for lectures after having extended clinical experiences at Holy Family and feeling exhausted. She now understands that the learning in clinical and being socialized into a profession, as well as the travel time to and from clinical and then trying to concentrate in class, did make one exhausted.
In the BSN program, the students were also exposed to a new world of technology emerging in health care. For example, one of the exercises that the class did in small groups was a scenario where a client was attached to all the latest and greatest technology. The nurse's assessment came from staring intently at a monitor – there were all these alarms beeping and nobody could ascertain what was wrong.  Finally, through a hands-on assessment it was discovered the client had a full bladder. The lesson the class learned from this scenario was that you could never replace good hands-on approach to health care with technology.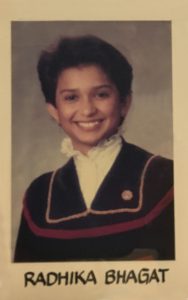 During her nursing education, her cohort craved more opportunities to practice that hands-on learning in clinical.  Radhika worked as a nurse's aide during her two years of college, and that experience prepared her for the workings of the hospital. In her summer break after 3rd year, Radhika really valued that additional practical experience she received, as Pearson Hospital had a relationship with UBC School of Nursing and hired nursing students to do aide work.  The value of the UBC nursing preparation for Radhika was that she was given the tools for problem solving and decision making. Radhika found she was able to work on her knowledge and skill consolidation, and the speed came as she gained experience after graduating in 1985.
Radhika knew her passion lay in public health nursing  but there were a few twists and turns in the road to get her there.   Radhika's first job was at UBC hospital and Rose Murakami, as Director of Nursing at the time, was very steeped in the UBC Model.  Ms. Murakami's leadership really influenced her staff's nursing assessments. Using systematic assessments helped Radhika throughout her career.  After working at the UBC Hospital, Radhika moved to acute medicine in Urology.   After a stop-over at Children's and Sunnyhill Hospital, she entered community health as a Home Health nurse. However, even with Home Health experience, obtaining a position in Public Health was a catch 22.  Managers hiring into public health wanted candidates to have public health experience, however in order to get the experience, you needed to be in a public health job.  Colleagues of Radhika that were interested in Public Health went outside of Vancouver, to rural areas like Merritt and Mt. Currie (outside of Pemberton) where they could find Public Health jobs.
Radhika remembers interviewing for Public Health jobs for School health. Radhika looked young and thought this would have made her a perfect fit in relating to the students, but unfortunately she was not offered the position.  Frustrated but still very determined to realize her dream of working in Public Health, Radhika went to pursue her Masters of Nursing at the University of Calgary. Upon returning to Vancouver, she was finally offered a job in Public Health.
Public health provided more opportunities than Home Health – maybe not in paid leadership roles, but in the ability to interact with different populations, different groups, and community development. Radhika worked in Public Health 0-5 programs that were cutting edge. For one program she was the only nurse for early childhood, and there was a lot of community and program development as a front-line nurse. Radhika worked with pregnant clients as part of Healthiest Babies Possible (HBP), and with foster parents in the Safe Babies program.  Out of these experiences Radhika became a Clinical Nurse Specialist for 0-5, a clinical practice lead role which she thoroughly enjoyed.
After 7 years as the clinical practice lead, Radhika found herself looking for the next challenge.  This led her to an Operation Manager role that brought her into administration. Even though Operations scared her, being in this role provided many growth opportunities. In her role of Operations Manager, Radhika moved around to different portfolios.   Her last portfolio focused on enhanced programs that are city wide including   HBP, Safe Babies, Building Blocks, Young Pregnancy and Parenting, Dental and Sheway. With her grounding in clinical practice and 0-5 experiences, Radhika was able to do some building-up and quality improvement in the programs.
The teams she led very much appreciated her front-line background and her grounding in service care delivery. She felt it gave her real credibility as a manager. Radhika says "People were very trusting in the changes that I brought or suggested". One of Radhika's strengths is working collaboratively with different disciplines and discipline leads to solve issues and ensure the best client outcomes.  Radhika found "having a background in PHN really trained you for leadership, getting you to think about systems change and partnerships from a perspective you may not have thought of before. It also focuses you to ask questions about what is the root cause, whether it is epidemiology and surveillance, healthy populations and keeping populations healthy – public health is unique".  Currently, Radhika is the Regional Manager for Public Health / Prevention with Vancouver Coastal Health.
In life outside of nursing, Radhika is married and has 2 daughters. Family is very important to her. Radhika held herself back from nursing leadership type positions when the children were small because she wanted to stay at home with them. For the last 10 years, before her mother died, their lives were busy with visiting, cooking and caring for her. At home, she enjoys sharing her love of cooking with her daughters. Meditation and retreats with her husband are central to her life and the summer is spent being outside and gardening. Radhika is thinking of retiring as the next stage to her professional journey and is proud to see UBC growing so strong.
Radhika's advice to anyone unsure of where they want to go includes the following: figure out what your passion is, draw on your innate and learned skills, and take opportunities when they present themselves to you.
"Regardless of who accepted or rejected me it didn't matter – to achieve your goals, you just keep pushing through, accept the losses, celebrate the gains, until you succeed.   Along the way, you will be surprised at your re-definition of success!"