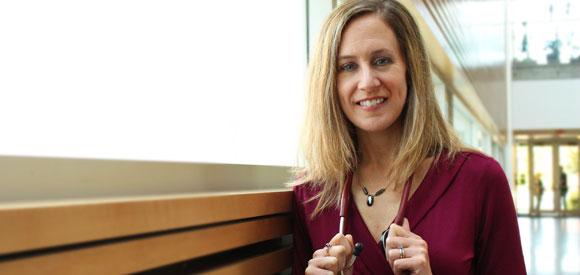 "I find this to be the most fascinating part of my role as a nurse, hearing the patients' life story."
What has made your time at UBC the most memorable? 
I think what is most memorable to me is the amount of time and effort I have put into obtaining a master's degree in Nursing! I still have a lot of work to complete this year with my research study, but I know every minute and effort I put into this is worth it! I also remember driving over the Lions Gate Bridge at 7:15am to beat traffic, grabbing a coffee at Starbucks at UBC, and then studying for an hour before class. After class I would then head off to work for 8 hours! I still don't know how I did that! I also was given an opportunity to sit down one on one with Dr. Leanne Currie to do a directed study. That was a very unique learning experience, one that I am very thankful for. I am grateful to her that she was willing to give me her time and attention.
Why did you choose Nursing? 
I get this question all the time why I chose to be a nurse! I remember thinking that I had a desire to help and assist people who may be suffering, going through a health crisis or life transition. I also had a strong desire to be an advocate for those who were unable to do so for themselves and didn't have someone to advocate for them. I enjoy engaging with other people and learning whom my patients are as individuals. I find this to be the most fascinating part of my role as a nurse, hearing the patients' life story! It is amazing what some individuals experience over a lifetime, and the adversity that some must overcome!
Tell me about your experience in Nursing. What have you learned that is most valuable? 
Nursing gave me a gift at an early age to realize that life is precious and to cherish every moment! It also made me appreciate my health and that it is important to practice good health behaviours. Nursing is a rewarding and interesting vocation! Everyday is fascinating and different because every patient is unique and challenging!
How are you applying the skills you learned through your studies at UBC? 
I have grown as a person and learned many valuable skills as a graduate nursing student at UBC. I am now able to understand statistics and use them in my everyday work, which is a valuable asset to have in healthcare. Engaging with other students has assisted me to network and learn about how other health authorities do things. My professors have encouraged me and this has increased my confidence to believe in myself! I am more confident as an individual and a nurse because of my experience at UBC, and have become a transformational leader at my workplace.
What has been your most memorable/valuable non-academic experience studying nursing at UBC? 
Meeting on Saturday at UBC to work on a group project. It was fun and didn't seem like it was work! I enjoyed learning with the other members of the group!
How do you feel a degree in Nursing has benefitted you compared to a different field of study? 
Studying for my master's degree in Nursing has changed how I do my work with colleagues and patients for the better. I see things differently in a positive way.
What advice would you give a student considering Nursing? 
Nursing is such a diverse field, and being a nurse is a rewarding career. You are given an opportunity to make a difference in people's lives. I don't know what more I would want in a vocation! The one piece of advice I would give to students is finding your passion. I was so fortunate to find my passion and it is what keeps me going everyday especially now when I leave my family on Saturday to hit the books and write my thesis! My passion is cardiac nursing particularly home visits now that I involved with the Cardiac Home Follow-Up Program at Lions Gate Hospital.
Where do you find your inspiration? 
From my patients! They keep me going to work everyday! I recently had a patient walk into my office that I saw at home six and a half years ago. He is doing well and is healthy! That gave me a boost to keep doing what I am doing!
What are your plans for the future–immediate? Long-term? 
Finishing my thesis within a year is my current goal, and I want more cardiac patients to receive home visits! I can't wait to devote all my spare time with my good-looking supportive husband Lewis and our two-year-old daughter Olivia!
How will you go on to make a difference in our world? 
I have recently been thinking about making a difference at the policy level. Perhaps lobbying government to create more funding for home visits and community care. I believe we need to change the structure of our healthcare system so that we deliver more care in the community and less in the institutions of a hospital!
Material provided by the Rising Stars Applied Science 2015 interviews
https://apsc.ubc.ca/students/student-stars