In 2001, I was attending high school in Hamilton, Ontario and nervously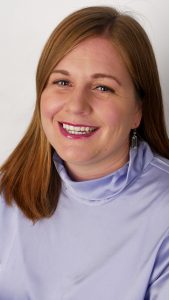 contemplating which university program to apply to. I knew that I was interested in business and healthcare but struggling to decide where to start my training. At that time, I would have never imagined that 14 years later, I'd receive my PhD from one of Canada's leading research-intensive universities and become a professor of nursing.
My interest in health was stimulated while I was a teenager, training to be a lifeguard. This is where I was introduced to basic principles about how the body works and how to respond to stabilize it when it is injured or stops functioning properly. As looming university application deadlines approached, my mom suggested that I should consider a career in nursing. I remember immediately rejecting the idea, not only because parents are always wrong, but because the only thing I knew about nursing was depicted on the popular television medical drama series, "ER". Nurses were never protagonists and very often portrayed as subservient to much younger, more knowledgeable and attractive physicians. I've since learned to seek information from more reliable sources!
Fast forward to 2008, I was graduating from Queen's University with BNSc and MSc in hand, had a few years of practice in critical care under my belt and was looking for my next adventure. I was yet again at a crossroads, trying to decide if I should pursue developing my skills as a clinician (and actively considering travel nursing in exotic places) or continuing on my path to academia. Three timely insights came to me at this time. One, my Master's thesis work taught me that I really enjoyed research. I felt empowered to participate in this form of critical inquiry for the purpose of improving care delivered to patients. Two, a mentor told me that "it's better to hold your highest degree sooner than later" and three I met a wonderful man (now my husband) who was moving to Vancouver to purse educational opportunities at the University of British Columbia (UBC).
I felt lucky to be accepted into the doctoral program in the School of Nursing at UBC. Not only because of the reputation of the school and program but also because of the brilliant minds that sat on faculty. My first day was somewhat overwhelming. After successfully navigating the transit system from Yaletown to Point Grey (a big undertaking coming from my suburban background) and meandering through the labyrinth of buildings on campus, I found the right room at 2211 Westbrook Mall. Arriving just on time, I came face to face with Canada's leading nursing philosopher discussing ideas that I'd never encountered with highly accomplished classmates. It took some time to become less intimidated, learn the language of philosophy and research and mature as a thinker and writer. Throughout this process, I also learned that the people around me were very supportive of my learning.
My experience at UBC was shaped by my supervisor Dr. Joy Johnson and committee member Dr. Pamela Ratner. They are responsible for serving as role models for my career. Through their actions and accomplishments, they showed me the power and privilege that academics possess and gave me a vision for what's possible in my career. Contradicting everything that I have observed about nursing before working with them, I witnessed Joy and Pam, on separate career trajectories, shatter proverbial glass ceilings with their progressive ideas, knowledge and commitment to their profession. Moreover, amid their hectic schedules, they always made time to teach and mentor graduate students. I like to think that I've emulated this behaviour as my proudest moment at UBC was receiving the Killam Graduate Teaching Award. Aside from developing as a researcher, Joy and Pam taught me to always have a seat at interdisciplinary tables, make my presence known and to be outspoken about topics I'm passionate about. I'll be forever grateful for their teaching.
Since graduating from UBC in 2014, I've completed a post-doctoral fellowship at the Centre for Addiction and Mental Health and am now an Assistant Professor at the Queen's School of Nursing in Kingston, ON. My primary stream of research is focused on cardiovascular risk reduction in individuals at increased vulnerability to developing cardiovascular disease; namely people with mental illness and women. I also have an emerging interest in measuring outcomes associated with access to early palliative care among people with chronic conditions such as advanced cancer, cardiovascular or respiratory diseases. Throughout my academic training, I've had the privilege of becoming a parent to three wonderful daughters.
I feel like I'm on the path to achieve an "amazing career" and will continue to work tirelessly towards making meaningful contributions to our profession.
Faculty Profile: https://nursing.queensu.ca/goldie