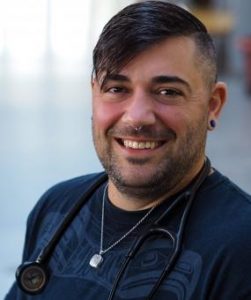 Fin Gareau is originally from Prince Albert, Saskatchewan and moved to Vancouver 20 years ago to explore BC and find community. He is a member of the transgender and Two-Spirit communities and has been working with gender diverse and questioning adults, youth, and their families for over 15 years. He has many years of experience working with people living with severe mental health and substance use problems in Vancouver's Downtown East Side (DTES), working in in supported housing programs and on various outreach teams as a registered nurse (RN). He recently completed his Master of Sciences in Nursing, Family Nurse Practitioner degree and has a strong passion for working with marginalized people. Recognizing the need to create more accessible and inclusive health care services, Fin was founding organizer of the Catherine White Holman Wellness Centre, an all-volunteer health and wellness organization for trans and gender diverse people. He also works at Trans Care BC, and will also continue to work at his final clinical placement as a new graduate.
Fin fully embraces the importance of community, social justice, harm reduction and trauma informed care and works hard to incorporate these concepts into all areas of his practice.
Why did you chose nursing?
As a transgender and two spirit person, I have had far too many negative and harmful experiences from various health care providers while just trying to access the same level of health care that the majority of BC's population receives. I have watched loved ones, friends and community members go through similar and often worse experiences as well. I couldn't help but feel as though I could do some real good by becoming an RN, and work toward creating change from within.
What has made your time at UBC the most memorable?
I would have to say I am so incredibly lucky to have been in the MSN FNP program with the cohort I was with. My classmates have been so open, supportive and welcoming. They have stood by me with the right amount of humility and confidence to ask hard questions with respect and are advocates for change as well. My classmates have really inspired me and carried me through this program. I feel I would not have made it through as successfully without them. I am so proud of them all, and am really looking forward to the future with my new lifelong friends.
What have you learned that is the most valuable?
This experience has given me so much confidence. Not just confidence in my own knowledge and ability, but confidence in knowing when I may not have the right answer — that it's ok and that I can do some research or consult with colleagues to uncover the safest approach to a situation.
I have also learned about how to motivate myself, which is a skill I have been working on for a long time! In this program we must be motivated to study constantly, and sacrifice regular life for a short time. It is so very worth it!
How are you applying the skills you learned through your studies at UBC?
At my last practicum, I had the privilege of working with many trans people in a primary care clinic. I was able to draw on my experience being trans and working with trans folks for so many years to engage with my new patients. This skill in addition to all that I have learned at UBC allowed me to provide the level of care that all people deserve and that trans and Two-Spirit communities have not had full access to. Having so much knowledge, still with so much more to learn, is really empowering and humbling.
What has been your most memorable or valuable non-academic experience studying nursing at UBC?
The safe places that I found on campus were so important to me. I think about going to the Long House often — studying there, but also eating together and making connections. It is so important to have a comfortable space where I know I am seen and can relax. I also incredibly appreciated and loved the non-gendered washroom. I would often walk a bit farther just to visit the washroom; it is so imperative to have safe accessible spaces to just be a human in and not have to worry.
How do you feel a graduate degree in nursing has benefitted you compared to a different field of study?
It benefits me because I really love the work. I love having the ability to practice autonomously, incorporating social justice and trauma informed practice into my work. I am so lucky to have the ability to do something I love, to help people with their health and get paid for it. I don't think I would love any other kind of work at this point in my life. The new knowledge has given me so much confidence which also trickles into other parts of my being.
What advice would you give a student considering a graduate degree in nursing?
I would share all that I have learned about being open and confident in themselves. Acknowledging that this program is intense and there is little room for regular life, it is also incredibly rewarding and I find the work to be exciting, fun and always interesting. I would advise them to stay organized, get lots of sleep and try their best to eat well and exercise. These things will help keep stress levels down and everything will feel less overwhelming.
Where do you find your inspiration?
I find inspiration from all the beautiful people I am privileged to work with. I find inspiration from all those who work hard on being better, loving, respectful people. People who are really trying their best to be open-minded, to understand and learn from others. People who are kind and accepting of others that are struggling to survive in the world. I find inspiration from those brave people who need to be who they are even if it means potential loss of family, friends, employment, housing, health care and community.
What are your plans for the future?
The last practicum clinic I worked in has hired me part-time (full-time ultimately) as soon as I am licensed. They do not have a structure for an NP in their clinic but are working together with me to figure out a position there. It is the perfect fit because they see so many trans people. I have also been invited to start up a clinic once a week for trans and non-binary sex workers, many of whom are Indigenous.
I eventually hope to move to a rural community, ideally working with Indigenous, two-spirit and/or trans and queer communities. Who knows where I will actually end up!?
How will you go on to make a difference in our world?
I will continue to advocate for change in health care systems and delivery and to support and challenge organizations to be more inclusive of the most marginalized people. I will continue to work with oppressed communities and provide the best level of care that everyone deserves.
Photo and text provided by the Rising Stars Applied Science 2017 interviews