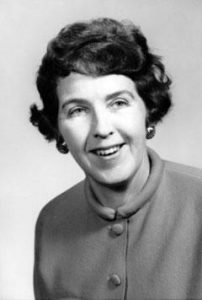 Monica Frith Green was one of British Columbia's most distinguished and honored public health nurses.
Born in Prince Albert, Saskatchewan, in 1917, she moved to B.C. as a child. She graduated from the six-year, double-degree nursing program at the University of British Columbia, with her RN from Vancouver General Hospital, and her Bachelor of Arts (1939) and Bachelor of Applied Science in Nursing (1940). Soon after graduation, she joined the Provincial Public Health Nursing Service, working in the Okanagan and in Creston. After a leave to obtain a Master's degree in Public Health Nursing from the University of Michigan, she returned to the B.C. PHN Service as a Consultant. In 1948, she was promoted to Director. Under her gifted administrative skills, the nursing service expanded and she introduced, among other advances, a post-hospitalization home-care program, one of the first in Canada. She held the Director's position until her marriage and retirement in 1975.
Throughout her career, Mrs. Green was active in professional associations and was, among other positions, president of the Canadian Public Health Association (CPHA). In 1967, she was honored by her U.S. colleagues and became Honorary President of the American Public Health Association and in 1968 was made an APHA Fellow. In 1975, she received the Award of Merit from the B.C. Branch of the CPHA for outstanding contributions to public health services and public health nursing.
Following retirement, she wrote the thoroughly-researched and well-illustrated Through the Years with Public Health Nursing: A History of Public Health Nursing in the Provincial Government Jurisdiction British Columbia (Ottawa: CPHA, 1984), now a classic reference book. In recognition of her writings, she was named an Honorary Life Member of the History of Nursing Professional Practice Group of the College of Registered Nurses of B.C.
Monica leaves a lasting legacy – her outstanding service and writings and her generous endowments to health care, nursing history, and nursing scholarships. She died December 28, 2004.
Provided by the B.C. History of Nursing Society http://bcnursinghistory.ca/archives/biographical-files