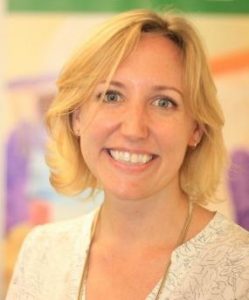 Can you tell us a little bit about the kind of work that you do?
I am currently working on my Doctorate of Public Health at the London School of Hygiene and Tropical Medicine (LSHTM) with funding from the Pierre Elliott Trudeau Foundation, looking at the impact of epidemics on maternity care services in post-conflict settings. This involves spending significant time in Sierra Leone spending time in clinics observing patient-provider interactions.
I am also working on a couple of projects at the LSHTM, researching community and policy-maker engagement with emerging infectious diseases, and supporting the Health in Humanitarian Crisis Centre with events and strategy. In my little bit of spare time I train and mentor new humanitarian aid workers.
What have been the turning points and milestones in your career?
I was volunteering as a teacher at a small rural school in Ghana in 2008 when I realised that if I wanted to work in development long term I needed more skills, particularly in health. So I applied for and was accepted into UBC Nursing! I can assuredly say that my clinical background was critical in getting into and moving up in international development work.
Working at VGH in Acute Medicine after completing my BSN was awesome, I got to really put in practice the pathophysiology and patient-centred care that I had learned about in the coursework! However after about two years at bedside, I decided that I wanted to focus more upstream, looking at the social determinants of health and inequities that result in people becoming severely (often chronically) ill. So I decided to get my Masters in Public Health.
After graduating with my MSc in Public Health from the London School of Hygiene and Tropical Medicine in 2012 I was thinking I'd want to stay in London for a couple years to work, but after a few months not finding a job that suited me, I started applying for international development roles. Quickly I was offered a job in South Sudan, which had just become an independent country. Up for an adventure, I got on a plane 3 weeks later and ended up as Community Health Supervisor in a very, very remote part of the country where I spent a lot of time bouncing around in the back of a truck on dirt roads delivering medicines to clinics, monitoring the quality of health education sessions, doing nutrition assessments of children and training health workers on technical and management skills.
Finally, while working on the West African Ebola Response in Sierra Leone in 2014/2015, I found my research passion in reproductive health care during and after epidemics, as there was a drop off in health facility deliveries resulting in a huge increase in the rate of maternal mortality. So I decided to go back to school to get my Doctorate to look at this critical issue.
What do you consider your greatest achievement in life so far (personal, professional, or both)?
That's a hard one. I'd say on a personal level, meeting and holding onto my amazing husband when we were living apart for the first 2.5 years, and when we are both often on the road (he works as a researcher in sub-Saharan Africa) has been a real accomplishment! It's been a lot of effort, but entirely worth it! It's not at all easy to do this kind of work and have a stable relationship.
On a professional level, I'd say I'm incredibly proud of the work I and hundreds of other people did in opening up an Ebola Treatment Centre (ETC) in Sierra Leone during the Ebola outbreak. We had about 4 weeks to write protocols and procedures for the functioning of the Centre, train some 400 local staff in those protocols (including how to donn and doff Personal Protective Equipment), and unpack thousands of pounds worth of medicine and medical equipment, all while the ETC was being built around us. It was a massive job, but we had a brilliant team of national and international staff working day and night to get it ready to admit our first patient.
And being awarded the UBC Nursing Young Alumni of the Year award in 2015 was pretty awesome!!!
What was your favourite class at UBC, and why?
It's been quite awhile now to be honest! But I remember really enjoying the Socio-Cultural Construction of Health and Illness, with Elsie Tan and the Ethical Basis of Health Care, with Paddy Rodney. I think these were both courses that at the time I enjoyed, but I didn't necessarily appreciate at the time how useful they would be and how much I would be drawing on the learning in the future, particularly in the work I do now.
What do you feel are three habits necessary for highly successful nurses?
I'll answer as a former nurse who moved into the humanitarian health sphere (but I think these are likely true for all nurses!)
Jump at chances: if you get a chance to try something new, do it! Ask for help, and be safe, but also just say yes. Because the best opportunities I've gotten have been sudden and completely unexpected.
Be audacious in asking for what you want: I shamelessly sat down beside the Director of LSHTM when I saw him at a restaurant in Sierra Leone, introduced myself as an alumna of his School, and said "I want to do my Doctorate on the impact of Ebola on maternal health" and he said "great! Here's my phone number, call me when you get back to London and we'll have a chat." And that's how that worked out!
Do what needs doing: sometimes the most critical job to do is to unpack a couple hundred boxes of meds, or arrange lunch for trainees, or do the photocopying. If you think that you're "above" a particular task, you're not going to earn the respect of your colleagues and you might miss out on some critical information that you acquire while doing that job.
School of Nursing's TouchPoints Newsletter interview provided courtesies of McKay