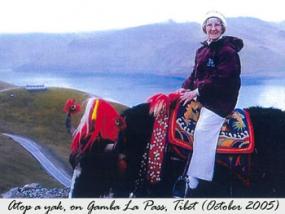 Like many women of her era, Billie chose nursing as a profession because university was unattainable financially. There were not many choices available to women at the time (the main options being: secretary, teacher, sales clerk, nurse) and a good friend of hers was a nurse. She has a passion for sewing and still does, but there was no future in that as a way to support herself so she decided to become a nurse.
She enjoyed the education aspect of public health very much, appreciating that disease prevention and health promotion were very important health initiatives.
Billie also obtained a Master's degree in Administration and Supervision at Columbia University in New York and a Master's in Public Health Administration from Berkeley, at the University of California.
From 1954 to 1956 she worked for the World Health Organization in Columbo, Sri Lanka, where she taught Public Health Nursing. Although she didn't much like teaching in a classroom, she found the country and people to be interesting and she made sure that she had a "good balance between work and 04play."
She has held several positions as a Supervisor, Associate Director and then Director of Public Health with the City of Vancouver over the years in a varied and challenging career. Billie retired in 1977.
She likes sewing, knitting and travelling. She has travelled extensively, including to the Arctic and Antarctic. And she's not done yet! At the end of April, 2009 she is going on a cruise to the Caribbean, crossing the Atlantic and on to London and Paris.