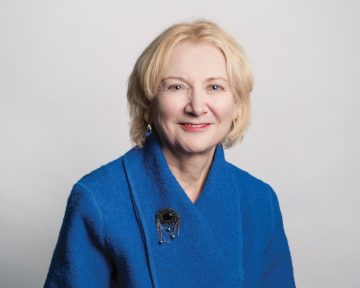 As a  young  child, I knew I wanted to  be  a nurse , but I had  no  idea of the diversity  of  opportunities that a  career in nursing  would  bring.  Obtaining my MSN from  the UBC  School of  Nursing  was a wonderful  experience.  I  am grateful  to  my  classmates for  the  camaraderie and  shared learnings, and  to  the  dedicated faculty who fostered  critical  thinking and  broadened my perspective  of  the  nursing  profession. I  am  particularly  indebted  to Verna  Huffman  Splane for encouraging me to  be  a life-long  learner and  to be  involved  with  professional associations as a  way  to stay  current  and  to  contribute to  the  nursing  profession.
My  nursing  education  began  in  Ottawa  with  my  Mother  encouraging  me  to enter a  baccalaureate  program. During the  summers, as a student  I  worked  in a  variety  of patient  care  roles at  the  Ottawa  Civic  Hospital. Following  my  graduation from  the  University  of  Ottawa  in  1973 there  were  few  jobs  available in  Ontario for  Registered Nurses and I was  hired  over the  phone  for a  staff  nurse  role  in  the  ICU  of  the  Royal  Jubilee  Hospital  in  Victoria BC.  I  thought  I  was  going  to BC  for a  year  or  so, but after  3  years  in  Victoria I  decided  to  move  to  Vancouver  to  pursue  my  Master's at  UBC. I  had  done  some  teaching  in the  School  of  Nursing  at the Royal  Jubilee (prior  to  it transferring  to  the  college  system)  and  entered  the  UBC  MSN  program  intending to  focus  on nursing education as a  stream.  My  course content also  focused on nursing  practice  with  me  continuing  to advance  my passion  for  critical  care nursing.  However by  the  end  of  the  MSN, despite the  fact  that  I  had  not taken an administrative stream , I decided  that  my career  would  focus  on nursing  administration as I  felt  it  would  give  me  the  best  chance  to  bring  leadership as a change agent.
I worked  at  St  Paul's Hospital in Vancouver as a staff  nurse  in  critical  care, a  nurse educator in  medical nursing, and  a  nurse  manager  (Head  Nurse ) in  cardiac care. The  latter  was  perhaps the  most  impactful  of  all, as  I  had the opportunity  to create a  new  unit – the  first  cardiac  teaching  unit  at  SPH—to  hire and  orient the  nursing  staff, and  to develop  the  patient  teaching  program.  This  combined  my  love  of  administration  and education and  prepared  me  for  my  next  role  as Assistant Executive  Director  at  Mount Saint  Joseph  Hospital in  Vancouver.  This in turn set  me  on my  path  as a  nurse  executive and  exposed  me  to the governance of  organizations and  the  influence  nurse  leaders can  have at  a  board  level.
As  regionalization  of  health  care  in  BC loomed, the religious  women  responsible  for Catholic  Health in  BC began  their  own  consolidation.  It is interesting  to  note  that  some  of  these  religious leaders  were also  nurses , including a  classmate  of mine from the University  of  Ottawa.  Mount  Saint Joseph, ST. Vincent Hospitals  and  Youville Residence merged in an  effort to ensure that Catholic -based  health  care remained a  relevant contributor  to  the  health  system.  With  this  merger, I  had an  opportunity  to  be  a  Vice President  of the  new  organization  (known as CHARA)  and later as Acting  CEO.
When  CHARA merged  with St Paul's  Hospital  and Holy  Family to form  Providence  Health Care in 2000, I  returned  to St.  Paul's as a VP  of  Providence Health  Care and ultimately  was  appointed  CEO  in  2006 – a position I held for the next 12 years.  Providence is one of Canada's largest faith-based health care organizations, and now operates 17 facilities across Greater Vancouver.  I was privileged to  lead such a prestigious academic  organization where I attempted  to  sustain nurses' role  at  the  senior  table  by  maintaining a chief executive nurse as part of  the senior  team. The team had intentional  strategies  to enhance a values-based culture through integrating professional  practice, fostering  strong  interdisciplinary  teams,  focusing  on  patient-centred care, attending  to  the  mental  wellness of staff, and  advocating  for  the most vulnerable  populations. I  am  proud  of  the  fact  that  Providence  Health  Care /St.  Paul's Hospital was a leader in supporting PhD prepared  nurses as Nurse  Executives,  Nurse Practitioners and  Nurse  Researchers.
During  my administrative  career, I  kept active in professional  associations, bringing leadership as President of the Vancouver  Chapter  of  the  Registered  Nurses  Association  of  BC (RNABC),  President  of  the Nurse  Administrators  Association of  BC  (NAABC),  and inaugural  President  of  the Health Administrators Association  of  BC  (the  merger  of NAABC, Health  Administrators of BC,  and  Care Directors of  BC ). This merger was symbolic  of a shift to an interdisciplinary and  programmatic  focus in which nursing  leaders moved into  roles overseeing interdisciplinary teams caring for specific patient  populations.
As  I am now  retired  from  my  CEO  role, I  look  back  with appreciation on  the grounding  provided  to me by  the students  and  facility of the  UBC  School  of  Nursing and send  my  congratulations on  the upcoming 100 year  anniversary !
Editor's Note:
Under Dianne's leadership, Providence Health Care was recognized in 2012 and 2016 as one of B.C.'s Top Employers as well as one of the best employers for new Canadians in 2012. Additionally, Providence was accredited in with Exemplary status by Accreditation Canada in 2013 and 2017. The organization received the Coaching Wise Designation from the International Coaching Federation in 2016 and was listed in BC Business' Top 100 Companies in 2017.
Dianne has been the recipient of numerous leadership awards including a Lifetime Achievement award from the Health Leaders Association of BC, top 100 Most Powerful Women award from the Women's Executive Network, and an Award of Distinction from the College of Registered Nurses of BC. She was the inaugural Chair of the BC Health Care Leaders Association. Throughout  her  career she  has also participated  on  numerous health-related boards (beyond those mentioned above), including HealthCareCan, and Royal  Roads  University. Most recently, she joined  the  board  of the  College  of  Dental Surgeons  of BC as a Ministerial  Appointment  by  the  Minister  of Health. In addition to these voluntary activities outside of her professional work, Dianne's values are demonstrated in such activities as her incredible ascent of Mount Kilimanjaro to raise money and awareness for the Alzheimer Society of B.C.