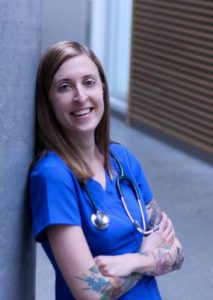 Why did you choose to pursue nursing as a career? 
I was drawn to the multitude of options that a career in nursing could provide me. Nursing covers a very broad spectrum – we have the ability to work closely with individuals and their families at various points along the health/illness trajectory, as well as collaborate closely with other interdisciplinary team members. Nursing offers considerable autonomy, while also emphasizing teamwork. There are hundreds of different ways to work as a nurse, whether in remote community settings, participating in research projects, or working in a large urban hospital. I am inspired that my career will be able to grow with me and that I have an endless array of possibilities in front of me.
What are some of the most memorable moments from your time in the program (academic or otherwise)? 
I had the opportunity to volunteer in northern India during my December break as a nursing assistant with a palliative care organization. I was able to learn from palliative care experts and to collaborate with an international team to provide care to underserved communities and families. I feel very fortunate to have had this experience – not only did it consolidate much of my learning, it also emphasized for me the importance of bringing a holistic perspective to my nursing practice. It was a chance for me to bring the lessons I had been learning at UBC, particularly around relational practice and interdisciplinary collaboration, into a practical real-world setting. As the team working with minimal resources, we sometimes had to be creative in our approach, and draw on our individual skill-sets to create care plans that addressed both physical and psychosocial needs.
In what ways do you hope to continue to interact with the school and your fellow alumni now that you have graduated from the program? 
My wonderful fellow classmates are the best thing about my program at UBC. I have learned so much from my peers and know that I will continue to draw on them as a source of support and learning as I continue in my career. Many of us look forward to working together and meet regularly to discuss healthcare issues and our response to them. I am so fortunate to have graduated with these terrific people as my life-long resources.
How are you applying the skills you learned through your studies at UBC? 
I appreciate UBC's emphasis on developing a relational nursing practice; I take the time to engage with each individual/family I am working with and try to actively collaborate with my clients on their care plan. UBC has also prepared me to be an active member of an interprofessional healthcare team, with opportunities throughout the program to collaborate with other team members. Taking part in interprofessional programs such as Health Mentors, for example, strengthened my ability to communicate with other disciplines. I feel UBC helped to develop my unique voice as a nurse, and I am now able to actively contribute to the team.
How has practicing nursing compared to what you imagined?
Nursing is really whatever you want to make of it. There are countless possibilities to what a nursing career can look like. Friends that I graduated with have gone on to careers that look nothing like mine! I think when I started nursing school I imagined that there was more of a clear trajectory to a nursing career. Now I've realized how many possible directions I can go in, and that it is really up to me to decide how and where I want to practice.
What advice would you give a student considering nursing? 
Nursing can be a very challenging profession, but it is also immensely rewarding. I learned early on to take advantage of the resources around me – my fellow students, faculty, clinical instructors and other nurses, as well as associations such as the Canadian Nursing Students' Association. Don't be afraid to ask questions, to reach out and to ask for what you need! I felt very well-supported during my time in the program, and taking the time to reach out to the resources I had around me made all the difference.
What advice would you give a graduating nursing student going into the field?
Ask a lot of questions! Find the senior nurses on your unit and ask them for advice and assistance. Listen to your patients/clients – they know their own health better than anyone. Don't make assumptions about anyone, ever. Find a way to let your work go at the end of your shift.
What has practicing outside of the classroom setting taught you?
The classroom setting is a very by-the-book environment. I fully respect this as new nurses need to practice within the rules to establish their knowledge base and skill set. In the real world, particularly in a rural emergency setting, I often have to work in a much more creative fashion. I've learned to strongly value the practice of asking questions and thinking on my feet. I never imagine that I have all the answers, or that a clinical textbook or algorithm is always the right approach. These can be helpful tools, but sometimes I need to think outside the box!
Where has your degree taken you?
After working in acute medicine and oncology in an urban centre for over a year, I was looking forward to an opportunity to take my career to a new and challenging level. I applied and was accepted as an emergency RN at a remote and rural community in the Northwest Territories. Working in emerg has been a fascinating experience; I work with clients across the age spectrum from newborns to the elderly, and with varying levels of acuity. I have had the opportunity to work with medevac teams on emergent cases, midwives delivering babies, and public health nurses and social workers supporting the mental health of a community. Working in a rural/remote setting has provided me with a new set of skills and challenges – we simply don't have access to things that I took for granted in a major urban hospital. With no operating rooms or ICUs available, the staff need to think creatively and collaboratively when faced with emergent situations!
Can you tell me about an experience when you felt that you really made a difference?
In ER nursing it can be as different as physically saving someone's life with ACLS, connecting someone with mental health and wellness resources, or providing caring end-of-life support to a client and their family. I feel very privileged to do the work that I do and to care for people when they come into the ER.
Where do you want to go next?
I'd like to continue working north of 60 and hope to move into more remote communities and even try my hand at outpost nursing. I want to continue to build my emergency skill set to gain confidence in more remote settings.
Photo provided by the Rising Stars Applied Science Interviews